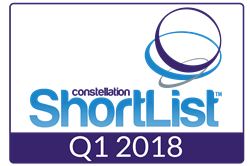 There has never been a greater need for communications technology to help employees be more productive and connected across the enterprise. -Dhiraj Sharma, Simpplr founder and CEO
REDWOOD CITY, Calif. (PRWEB) February 13, 2018
Simpplr today announced it was named to the Constellation ShortList™ for Corporate Intranet Platforms in Q1 2018. The technology vendors included on the Constellation ShortList offer the key requirements for early adopters pursuing digital transformation initiatives.
Simpplr is helping shape the next generation of intranets with an engaging user interface that drives high adoption, integrations built for today's cloud-based technologies, platform intelligence to help surface information, and point-and-click administration that doesn't require technical skills. As Simpplr strives to create the world's most engaging digital workplace, customers can expect continuous innovation and improvement.
"We are thrilled to be joining other technology leaders in this report. The workplace is becoming more distributed, and employees are suffering with too many business apps. There has never been a greater need for communications technology to help employees be more productive and connected across the enterprise," said Dhiraj Sharma, Simpplr founder and CEO. "This award is a testament to our customers' commitment to co-developing an amazing product that gets used and makes an impact."
"Boardrooms and their executive suites must be cognizant of the business extinction events and the exponential technologies that will transform their industries," said R "Ray" Wang, chairman and founder at Constellation Research. "Each Constellation ShortList, researched and curated by our analysts, guides early adopters in identifying the right technologies to support new business models and improve engagement. Leaders now have a list of the top technology partners who can co-innovate and co-create with customers to thrive and dominate digital disruption."
Constellation advises leaders on leveraging disruptive technologies to achieve business model transformation. Products and services named to the Constellation ShortList meet the threshold criteria for this category as determined through client inquiries, partner conversations, customer references, vendor selection projects, market share, and internal research. The Constellation ShortList is frequently updated as market conditions change.
About Simpplr:
Simpplr is the modern employee intranet that helps companies connect, engage, and empower their entire workforce across the enterprise. Simpplr was built to help businesses not only create an immersive and inspiring digital workplace but also to reinforce their unique culture. We aim to break the barriers of traditional work environments to deliver a better workplace, anywhere. Trusted by leading brands, including Workday, Box, DocuSign, Eurostar, and Columbia University, we help our customers achieve measurable productivity gains, increased employee engagement and retention, and accelerated business performance.
Simpplr is headquartered in Redwood City, CA, with offices in the UK and India, and is backed by Norwest Venture Partners and Salesforce Ventures.
Visit simpplr.com and join the conversation on Twitter @simpplr.
Disclaimer: Constellation Research does not endorse any solution or service named in its research. Simpplr is a registered trademark of Simpplr Inc. All other trademarks and product names are the property of their respective companies.