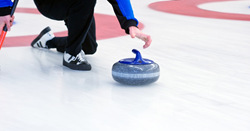 This exciting development means that our curling teams can train all year round in the high quality facility to help them reach the top of their game
MISSOULA, Mont. (PRWEB) February 13, 2018
This is not the first time that Star has helped to deliver the perfect training conditions for athletes to bring an Olympic medal home. The company has been working in the leisure industry since 1970, installing 80% of the UK's ice rinks, curling rinks, indoor ski slopes and ice walls, including Braehead Arena where Sochi Paralympics 2014 bronze medallist Aileen Nielson trained for the global competition.
The National Curling Academy opened its doors at The Peak in Stirling last summer, just in time for the winter athletes to up their training regime before the 2018 Winter Olympics. This is the nation's first curling venue of this kind, and before the specialist facility was built curling athletes were using ice rinks to train.
Alan Walkinshaw, Special projects sales manager said, "Scotland has always been on the map for curling, yet we have never had a dedicated training facility for our curling athletes to build on their success. This exciting development means that our curling teams can train all year round in the high quality facility to help them reach the top of their game – and hopefully bring back medals!"
Local athletes Eve, Thomas and Glen Muirhead have been on the ice everyday in the run-up the Winter Olympics. As captain of the female curling team, Eve is already a medallist after winning bronze at Sochi in 2014 – but this time she's aiming for more, and hopefully the new £3.15 million training facility that was jointly funded by Stirling Council and sportscotland will have provided the ideal preparation to help her achieve this.
Her two brothers Thomas and Glen are also a part of the male curling team hoping to bring home a medal from PyeongChang. Curling runs in the Muirhead family – their father Gordon is a World Champion in the sport.
Walkinshaw said, "We are thrilled to be developing top level training facilities to help UK athletes succeed in their chosen sports and reach their full potential. We wish all of Team GB competing in the Winter Olympics and Paralympics Games the best of luck – we'll be cheering you on from Scotland!"
Find out more about the National Curling Academy here: http://www.the-peak-stirling.org.uk/ice-rink/curling-times-and prices/
To find out more about Star Refrigeration, go to http://www.star-ref.co.uk
About Star Refrigeration
Star Refrigeration is the UK's largest independent industrial refrigeration engineering company. Founded in 1970, Star has been pioneering natural refrigeration and heating technology ever since, and the Star Group encompasses several brands including Star Renewable Energy and StarFrost