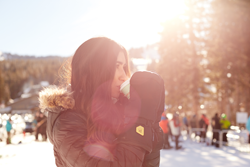 Our new Ravean Heated Gloves and Mittens not only keep your hands and fingers warm for hours in cold weather, but they are also very stylish…and a great addition to any winter wardrobe.
PROVO, Utah (PRWEB) February 13, 2018
Crowdfunding backers have really warmed up to the Ravean Heated Gloves and Mittens, investing more than $75,000 – more than seven times the company's campaign goal – within days after launching its newest heated apparel on Kickstarter.
"Once again, we want to thank our crowdfunding community that continues to support the introduction of new, stylish heated apparel in the marketplace," said Ravean Co-founder Bryce Fisher. "Our new heated gloves and mittens not only keep your hands and fingers warm for hours in cold weather, but they are also very stylish…and a great addition to any winter wardrobe."
Ravean Heated Gloves and Mittens are the newest product line introduced by Ravean, the leader in the development of heated jackets.
The versatile gloves and mittens can be worn while skiing, snowboarding and snowshoeing – or to just keep hands warm while working or playing outside on a cold winter day.
Unlike other heated gloves on the market that use heat packs in the gloves that don't always provide enough warmth for the whole hand or those that require bulky and heavy batteries, Ravean has applied its patented heating technology to create sleek, comfortable gloves and mittens that can keep fingers warm for more than six hours on a single charge.
Ravean Heated Gloves feature high, medium and low heat settings, which provide heat for up to 6.5 hours on a single charge at low temperature, with heat delivered for 3.5 hours at medium temperature and for 2.5 hours when set on the high setting. Two-thirds of the heat radiates from its battery-powered heating system, while the other third is a result of quality materials and manufacturing.
Ravean Heated Gloves and Mittens are designed in a stylish, pre-curved fashion and made from superior materials.
Features include:

Raveantech waterproof membrane
Subtle Goatskin leather palm, thumb and index finger
4-way stretch polyester fabric
3M G150 Gram Thinsulate, and fiberfill insulation
100 percent polyester brushed tricot lining
Heated coils embedded on the backhand for cold winter days. The temperature can be adjusted in three-steps depending on the weather
Heat control button
Rechargeable batteries
Pre-curved fingers or Glitten Mittens
YKK Waterproof zippers
Gauntlet Cuff with handcuffs
Pre-curved fingers and palm
While Ravean has offered heated thumb-hole cuffs and gloves on some of its previous heated apparel, this is the first time it has introduced independently-heated gloves to the Ravean Product Line.
"These new products represent the world's best carbon technology ever incorporated into heated gloves and mittens," Fisher said.
For more information or to pre-order, visit the Ravean Heated Gloves Campaign Page on Kickstarter.
About Ravean
Let's be real here for a moment; we're not the first people to come up with the idea of heated jackets or heated gloves. We're just the first ones to do it right. By doing it right we mean our jackets look good, they're durable, they're affordable and they integrate our technology seamlessly and unobtrusively. Finally, there's a heated jacket you can wear with equal comfort and style from the mountains to the office without missing a beat. Sure, it's been tried before, but other solutions have been pricey, ugly and the technology was problematic. Ravean has addressed and solved each of these issues to present jackets you can wear anywhere, that are as stylish and durable as they are warm and cozy. For more information, visit ravean.com.