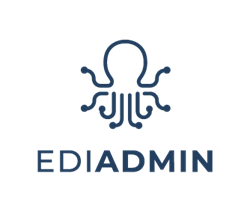 "The octopus is an intelligent, nimble, and dynamic animal. We think it's a great representation of who we are and what we do. We'll also be able to have a lot of fun with it."
MINNEAPOLIS (PRWEB) February 15, 2018
EDIAdmin officially released a new logo today after a months-long planning and development process, with the aim of creating a memorable visual mark to stand out among competitors in the B2B integration space.
After testing concepts with employees, partners, and clients, EDIAdmin chose an Octopus mark with each arm representing a B2B process flow and an integration point. Meanwhile, the brain symbolizes EDIAdmin's CHIP iPaaS cloud-to-ground platform and the support team that provides collaborative managed services.
"The octopus is an intelligent, nimble, and dynamic animal," said Ian Redlin, President and Founder of EDIAdmin. "We think it's a great representation of who we are and what we do. We'll also be able to have a lot of fun with it."
iPaaS (integration Platform-as-a-Service) technology is in the midst of a rapid growth spurt, projected to grow 55% annually to reach $1 billion in industry revenue by 2020.* Larger market players include Dell (Boomi), IBM (Sterling), and Informatica. More recent market entries backed by venture capital include Jitterbit, Mulesoft, and SnapLogic.
Though entrenched in a market with competitor clout, EDIAdmin has arguably the most complete iPaaS solution available, having evolved CHIP significantly since company inception in 2002. CHIP is advanced in the ability to provide end-to-end B2B integration between ERP, EDI, CRM, and WMS systems like SAP, Oracle - JD Edwards, SalesForce, Netsuite, and others.
Advancements include the ability to integrate cloud and on-premise systems and applications and automate the process flows between them. Data enrichment and error handling tools empower business users and free up IT resources, while a collaborative managed services layer provides EDIAdmin clients with full visibility, control, and support of their B2B integration operations, often resulting in substantial ROI.
Having found relevancy and firm footing among Fortune 1,000 clients, EDIAdmin will be broadcasting its message more assertively. The octopus logo, known internally as "Eddie," is an early investment in garnering broader awareness.
"We're making a commitment to capturing a big slice of the iPaaS pie," said Redlin. "It's been a labor of love getting to this point, and now it's time to propel."
About EDIAdmin
EDIAdmin was founded in 2002 with the goal of providing solutions for the growing complexity and administrative headaches associated with B2B integration. Located in Minneapolis, MN, EDIAdmin combines a cloud-to-ground iPaaS platform with collaborative managed services to bridge the B2B integration divide and ease friction between IT departments and their business communities. Clients include mid-size to Fortune 500 businesses in the retail, manufacturing, distribution, 3PL/Logistics, and automotive industries. More information about EDIAdmin can be found at ediadmin.com.