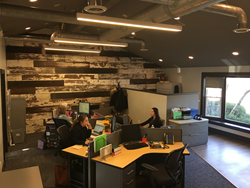 FAIR LAWN, N.J. (PRWEB) February 13, 2018
Rosica Communications, a national public relations, corporate communications and online marketing agency that launched in 1980, has moved its PR and corporate communications practice into a Fair Lawn, New Jersey building that it recently purchased and renovated. The firm will be the sole occupant and the space provides ample room for expansion.
The agency serves such market sectors as healthcare, consumer packaged goods, food and beverage, pet products, personal care, nonprofit, education and professional services. Staff includes PR, marketing communications, social media, graphic design and Internet marketing professionals. The company will maintain its Orange County, New York office, which handles website design, online advertising, SEO and online reputation management, as well as its satellite offices in New York City (through the joint venture with Feintuch Communications) and Burlington, Vermont.
According to agency president, Chris Rosica, "Our new, contemporary offices are authentic, aesthetically and architecturally. The space is one-of-a-kind; it promotes a creative, collaborative environment that appeals to a staff focused on social media and PR. Our digitally-savvy staff appreciate the environment."
For more information on Rosica Communications, please visit rosica.com or email PR(at)rosica.com.