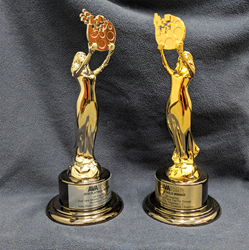 (PRWEB) February 13, 2018
QA Graphics, a full-service digital design company, is the recipient of two AVA Digital Awards in the Video Production/Creativity/Graphics category for their Dual Tank Whiskey Flask video and The District of Prairie Trail Fly Through. The purpose of the AVA Digital Awards is to identify and recognize outstanding achievement by creative professionals who are involved in the concept, direction, design, and production of digital media, and whose work serves as a benchmark for the industry. Winners were selected from over 2,500 entries worldwide.
QA Graphics has over a decade of experience in 3D design and animation. By working with QA Graphics, Discommon Goods (Dual Tank Whiskey Flask) and D.R.A. Properties L.C. (The District of Prairie Trail) each gained a custom video to use as a marketing tool to showcase their unique product design and commercial development space. Comparably, producing these high-quality videos has allowed QA Graphics to demonstrate their talents to a variety of clients. The design team brought photos, CAD images, video clips, and schematic designs to life, thus creating attention-grabbing, animated, 3D graphic representations.
To view the videos, visit:
Dual Tank Whiskey Flask: http://bit.ly/2tZY9CN
The District of Prairie Trail video: http://bit.ly/PTflythru
A list of Platinum and Gold Winners can be found on the AVA Digital Awards website at: http://www.avaawards.com.
About QA Graphics—QA Graphics is a leader in the building automation and green building industries. The company specializes in HVAC graphic development services, system graphics, floor plan graphics, and Energy Efficiency Education Dashboards™ (EEEDs). The company also provides custom marketing solutions such as interactive applications, 3D design and animation, UX design, videos, and more. Visit http://www.qagraphics.com to learn more.