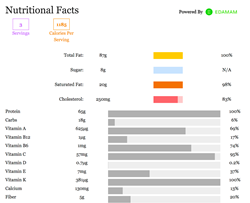 We provide an unbeatable combination of accuracy, speed and price, which perfectly suits our food media clients.
NEW YORK (PRWEB) February 15, 2018
Edamam, a company providing cloud-based nutrition analysis and nutrition data management services, established itself as the de facto nutrition data provider to the food media space with the announcement of a number of new top-notch clients. To its already impressive client list, which includes The New York Times and Epicurious, the company is adding also storied food media brand names Bon Appetit and America's Test Kitchen, as well as a popular recipe destinations The Daily Meal, The Kitchn and PureWOW.
"We provide an unbeatable combination of accuracy, speed and price, which perfectly suits our food media clients. In a short while, we will be announcing a few more high profile deals, which will further solidify our leadership in the space," commented Victor Penev, Edamam's founder and CEO.
In addition to the large food media brands, Edamam provides its nutrition analysis services a large number of small sites, food bloggers, cookbook authors, as well as to restaurants, caterers and food delivery companies.
"Even though we like to emphasize the large companies we work with, our services are appropriate for any company, site or author that creates recipes or offers recipe content. Edamam's price makes the service affordable for business of any size," added Victor Penev.
For companies with only few recipes, Edamam has a self-subscription tool, named Nutrition Wizard, which is easy to use and is very affordable. Companies with many recipes, can integrate with Edamam's Nutrition Analysis API, which allows for fully automated recipe analysis.
About Edamam
Edamam organizes the world's food knowledge and provides nutrition data services and value-added solutions to health, wellness and food businesses. Using a proprietary semantic technology platform, it delivers real-time nutrition analysis and diet recommendations via APIs. Edamam's technology helps customers answer for their clients the perennial question: "What should I eat?"
Edamam's partners and clients include The New York Times, Epicurious, Nestle, Samsung, AARP and Random House.
For more information, please visit http://www.edamam.com or developer.edamam.com.