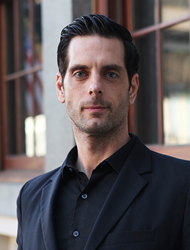 Clear has a unique opportunity to drive real impact for clients through a bespoke approach that only a nimble, hungry, boutique firm can offer.
(PRWEB) February 13, 2018
CLEAR M&C Saatchi, a global strategic marketing agency which enables ambitious marketing leaders to deliver category transformation, announced today the appointment of Adam Garrett as Managing Director, US, effective immediately. In this executive role, Garrett will hold responsibility for driving the growth of CLEAR's business in North America, reporting to global Chief Executive Officer (CEO) Damian Symons.
Adam has held numerous executive leadership and marketing strategy positions at major international organizations and cutting-edge start-ups which include building R/GA's Consulting practice, Monitor Deloitte, and Prophet. Through all of these positions he has helped clients to enhance enterprise value through organic, customer-driven growth, digital transformation, experience and service.
"We are delighted to name Adam as Managing Director of our US business," commented CLEAR M&C Saatchi CEO Damian Symons. "He has an impressive history of strategic transformational accomplishments, and is a respected leader recognized for building and motivating teams who drive exceptional market success. I'm looking forward to bringing Adam's experience to bear on the challenges faced by our clients. I am excited for the vision and direction he brings in this critical role at a very important time in Clear's global development."
Adam has worked with both business to business and consumer facing clients across industries ranging from financial services to consumer packaged goods, with a specific focus on the retail and hospitality sectors. He has helped some of the world's leading companies to find new sources of growth, build strong brands and design signature experiences. As US Managing Director, Adam will join the global Executive Board. He holds an MBA in Strategy, Finance, and Marketing from the NYU Stern School of Business, and a BS in Advertising and Consumer Psychology from The Newhouse School at Syracuse University.
"Clear is a unique firm that brings together the best of the consulting and agency worlds to help bold clients realize ambitious, transformative growth goals through Strategic Marketing," added Garrett. "As large consulting firms continue to look more like large agencies, and vice versa, Clear has a unique opportunity to drive real impact for clients through a bespoke approach that only a nimble, hungry, boutique firm can offer."
# # #
About CLEAR M&C Saatchi
CLEAR is a global marketing strategy consultancy which empowers ambitious marketing leaders to achieve transformational business results through the combination of proprietary insight, rigorous creative strategy and innovative change implementation. We bring clarity to our clients' toughest transformation questions. Follow us on Twitter and LinkedIn or learn more at http://clearstrategy.com.
CLEAR is a division of M&C Saatchi, one of the world's leading marketing services groups. The company is headquartered in London, England, with offices throughout the world.