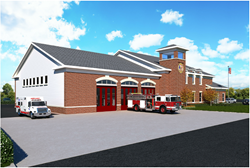 COLUMBUS, Ohio (PRWEB) February 15, 2018
Franklinton based Palmetto Construction is pleased to announce that it has been selected to build the new $4 million dollar Fire Rescue Station for Truro Township.
The new station will include an approximately 16,000-square-foot building that will accommodate three bay areas, furnished dormitories, kitchen, gym, bathrooms, community room, storage and back-up power.
"The new station will also have better safety feature," said Mike Shirley, Truro Township Trustee. "There is no way to keep carbon monoxide from entering the fire station in the old building. Safety features in the new one will keep that from happening."
Safety is an important feature that both Palmetto Construction and Truro Fire train on and place as a first priority.
"We are proud to be working with the Truro Township fire rescue and trustees," said president and CEO Casey Cusack. "We understand what this project means to the surrounding community and look forward to the opportunity to deliver another successful project."
Moody Nolan Architects is providing the design and engineering for the project.
Palmetto Construction Services is a full service general contractor serving the commercial and industrial industries. Having constructed over 500 projects, primarily for repeat customers, Palmetto has established itself as an industry leader in design/build, construction management, and general construction services, through self-performing much of the work themselves. Palmetto Construction has offices in Columbus and Tampa. For more information, please visit http://www.palmettobuilds.com.