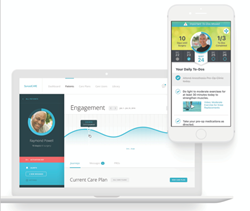 Partnering with CloudMine has relieved the stress of hosting and storing HIPAA compliant information in house
HARRISBURG, Pa. (PRWEB) February 14, 2018
Andculture, a research and experience design firm, recently developed and launched SyncedCare, a first-of-its-kind healthcare platform that improves patient and physician engagement before, during and after surgical procedures.
SyncedCare is a HIPAA compliant mobile application that connects patients, physicians, and care teams. The platform facilitates timely, two-way communication with a patient's medical team and provides them with information to help them plan appropriately with family and caregivers. Doctors and medical care teams benefit from improved ability to track protocol compliance and from streamlined communications with patients. Hospitals benefit from reduced cost of cancelled surgeries and from improved performance on readmission rate targets.
Andculture worked with CloudMine, a backend-as-a-service provider that hosts HIPAA compliant data, to help deliver the SyncedCare product.
"Partnering with CloudMine has relieved the stress of hosting and storing HIPAA compliant information in house," said David Hickethier, founder and CEO of Andculture. "This allows us to focus on designing innovative applications and solutions that meet the needs of the users and healthcare systems. We care deeply about the protection of patient information and were proud to partner with an organization that has the same dedication in healthcare security."
The accessibility, scalability and focus of CloudMine's technology make the company an ideal long-term partner for Andculture. "As we continue to work with healthcare institutions, having a proven partner that we can trust—especially one that is focused on healthcare innovation—is invaluable," added Hickethier.
CloudMine holds the patient information used in the SyncedCare platform, including detailed care plans; messages exchanged between patients, physicians and care teams; and other sensitive information. Andculture is able to access this information through an API that taps into CloudMine's back-end technology. This allows patient data to be shared back and forth securely within SyncedCare without compromising the overall design and user experience of the app.
"CloudMine is excited to have such an experienced and innovative partner in Andculture as part of our CloudMine developer program," said Chris Corbet, VP of Sales & Marketing at CloudMine. "Andculture shares CloudMine's commitment to taking on challenging projects to improve patient outcomes through connected health."
The partnership between Andculture and CloudMine is a testament to the growing tech scene in Central PA. To learn more about Andculture and SyncedCare, read the case study or visit Andculture.com.
About Andculture. Andculture is an experience design agency focused on the future of healthcare, education and technology. We craft user experiences that resonate with users and solve business challenges. For more information, visit Andculture.com
About CloudMine. CloudMine is the leading HIPAA-compliant Enterprise Health Cloud platform. CloudMine empowers healthcare organizations to rapidly and confidently develop connected digital health experiences by reducing complexity, enabling data mobility, and ensuring compliance. Recognized by industry analysts for their vision, collaboration, and ability to scale, CloudMine is partnering with a diverse portfolio of customers, such as the American Heart Association and Thomas Jefferson University Hospitals, to successfully address many of the biggest challenges in the digital transformation of healthcare. For patients, providers, clinical investigators and digital innovators, connected healthcare is better healthcare. For more information, visit http://www.cloudmineinc.com, call (855) 662-7722, or follow @cloudmineinc on Twitter.