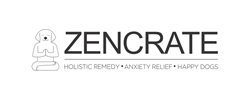 "ZenCrate offers a truly holistic, natural approach to treating pet anxiety, and we hope to be able to help more pets and their owners through this distribution expansion," said Jonathan Azevedo, Chief Operating Officer and co-founder of PNP Robotics
SUNRISE, Fla. (PRWEB) February 13, 2018
ZenCrate, a Florida based startup, is pleased to announce the world's first smart anti-anxiety dog crate is now available on Wayfair.com.
Designed in partnership with animal behaviorists, the ZenCrate addresses the primary drivers of animal anxiety by providing scientifically selected music, vibration isolation, noise dampening, comfort, security, and reduced light. Unlike other anti-anxiety products on the market, ZenCrate does not require human assistance to begin providing relief, and will play soothing music as soon as it senses the presence of a pet in the crate. The ZenCrate was highlighted for its innovative approach to treating pet anxiety in a recent Microsoft Office 365 campaign, and has received coverage from Fortune.com, HGTV, and Fox News.
ZenCrate has continued to experience rapid growth since the successful launch of their product on Kickstarter in 2016. With over 50 million site views monthly, the addition of Wayfair as a distribution channel will allow ZenCrate to reach an even wider audience of people looking for solutions for their anxious pets.
"We are excited to be offering the ZenCrate line through Wayfair as they have a legacy of providing quality products along with outstanding customer service which we require for our ZenCrate clientele," said Jonathan Azevedo, Chief Operating Officer and co-founder of PNP Robotics. "ZenCrate offers a truly holistic, natural approach to treating pet anxiety, and we hope to be able to help more pets and their owners through this distribution expansion."
ZenCrate can be found in the pet category on Wayfair.com starting at $609.
For more information about ZenCrate, please visit http://www.zendogcrate.com and email all inquiries to Megan Maddox at mmaddox@zendogcrate.com.
About ZenCrate
Founded in 2014, ZenCrate operates under parent company Plug and Play (PNP) Robotics LLC which develops technology and robotics focused consumer solutions, including the world's first smart dog crate, ZenCrate.