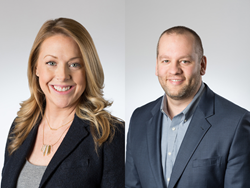 PHILADELPHIA (PRWEB) February 14, 2018
In support of a multi-year upward trajectory of growth and to continue providing indispensable service to clients, CMI/Compas has promoted two leaders into EVP, Managing Director roles. Elizabeth Barron and Justin Freid will now join Eugene Lee and Rebecca Frederick as EVP, Managing Director, leading media strategic planning for the nation's game-changing pharma and health brands. Lee will continue to directly manage and mentor Barron and Freid. For clients, this means scalable high-level support of their brands. This is also beneficial to CMI Media staff, who will get more individualized support and mentorship in their learning and development.
"The definition of media planning is changing, and we are among the visionary companies leading that change. Lines between traditional media planning, social media and search marketing are blurring. Clients today want the whole package, and it's largely because of CMI/Compas that they are seeing the success that comes when they break down silos," said CEO Stan Woodland. "As we continue to grow, we need to make sure our growth is sustainable and beneficial to clients and staff alike. Our growth has been steady and strong, and this evolution of our team structure allows this growth to be sustainable. Beth and Justin have deep experience in strategic marketing counsel for pharma clients, and with their addition to the EVP lineup we have a diversity of experience that will greatly benefit our clients."
Barron, Freid, Frederick and Lee all have long tenures at CMI/Compas and have deep media and emerging media experience to support their roles. Barron has been with CMI/Compas for over 5 years, providing account leadership for some of the nation's largest pharma brands. Her results-focused style has translated to marked growth for her clients, and she has deep experience across dozens of disease states and all media. Freid has also been with CMI/Compas for over 5 years, and previously served as SVP, Search Engine Marketing and Emerging Media. In this role he launched and significantly grew the company's Drive practice - bringing search and emerging media strategy to dozens of clients - and leading the charge in breaking down silos and innovating the way the pharma industry uses search and social channels for better engagement with patients and HCPs. Frederick has been with CMI/Compas and legacy company OCHMM for over 12 years, and Lee recently celebrated his 24th anniversary with the company. Together they bring an unrivaled depth of experience in healthcare media to their clients and staff.
An important part of the EVP role will be overseeing the career path of the company's 230 media experts. The company has an industry-leading employee tenure, and prioritizes individualized learning and development for all employees. By splitting mentorship across four EVPs rather than two, the company aims to continue their track record as growth continues.
Those looking to join the CMI/Compas team can visit the company's career page for more information and a link to apply:http://www.cmimedia.com/career
To get a taste of the corporate culture, visit the company's Facebook page: http://www.facebook.com/CMICompas/
About CMI/Compas
Well-known as a media planning and buying organization for healthcare clients, sister agencies CMI Media, a WPP Health & Wellness company (NYSE: WPP, http://www.wpphealth.com), and Compas, Inc. together form the indispensable strategic marketing partner to the world's game-changers in health, offering guidance at every level of marketing. CMI/Compas focuses on core service offerings of Audience Strategy and Non-Personal Promotion Strategy, Planning, Buying, and Customer Insights and performance management/precision analytics. With continuous investment in the things that really matter, CMI and Compas have achieved unsurpassed tenure of healthcare marketing talent, clients and suppliers. CMI/Compas has offices in Philadelphia, PA; King of Prussia, PA; Cherry Hill, NJ; Parsippany, NJ; Chapel Hill, NC; Chicago, IL and New York, NY. The family of companies is actively recruiting for healthcare marketing jobs via http://www.cmimedia.com/career.