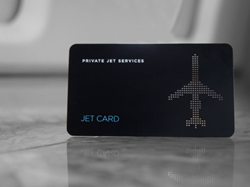 "PJS couldn't be more delighted to partner with the visionaries at Todd Reed and offer our members extraordinary jewelry that stands the test of time." - Greg Raiff, Private Jet Services CEO
SEABROOK, NH (PRWEB) February 14, 2018
Private Jet Services (PJS) and Todd Reed, an artisanal luxury jewelry company based in Boulder, CO, have announced their collaboration to offer PJS Jet Card Members exclusive access to a curated collection of jewelry pieces.
Todd Reed's work is rooted in artisanship and inventiveness. Todd makes it his business to find a connection with every stone that he and his team work with - always engaged in the inherent dialogue between the stones and the designs in which they live. The character of each final piece stems from the marriage between stone and metal.
Captivated by their pioneering, iconoclastic spirit, Private Jet Services sought out Todd Reed's team to create a collection specifically for PJS Jet Card Members.
"Todd Reed creations are known for their superior quality, and raw elegance." commented CEO of Private Jet Services, Greg Raiff. "PJS couldn't be more delighted to partner with the visionaries at Todd Reed and offer our members extraordinary jewelry that stands the test of time."
"Private Jet Services' passion for aviation mirrors our long standing passion for jewelry," stated Robert Diamante, Todd Reed Marketing Manager. "Their superb service is an ideal match for our product and we are excited to provide their clients with exceptionally beautiful jewelry crafted with honesty and integrity."
To learn more, please visit: http://www.pjsgroup.com/contact
ABOUT PJS: Private Jet Services (PJS) is a privately held aviation consultancy and air charter services provider founded in 2003. In addition to its acclaimed Jet Card Program, PJS provides mission critical air services to professional sports teams and their athletes, presidential candidates, government agencies and many of the world's largest bands. The PJS culture is built upon a deep passion for aviation and obsessive attention to detail. The PJS team provides a level of service and safety unmatched in the private aviation industry.
ABOUT TODD REED: Todd Reed is an American artisan luxury jewelry company renowned for creating works of art using recycled metals and sustainably-sourced raw and fancy-cut diamonds. Todd Reed creations are all one-of-a-kind, hand-forged and finished by master jewelers in the Boulder, CO studio. Todd Reed creates an alchemy of precious metals and stones that merge rugged natural beauty with refined sculptural elegance - Raw Elegance. It is a vision that fuses the iconoclastic spirit of an artist, the unwavering, handmade ethos of an artisan, and the sustainable methods of a modern-day steward.