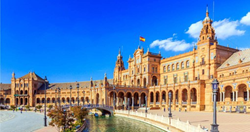 Portugal is now the place to be. With the secret well and truly out, now is the time to go.
GLENDALE, Calif. (PRWEB) February 16, 2018
Goway Travel is offering discounts to Globetrotters booking early for Spain and Portugal in 2018.
Despite stiff competition from emerging sunny rivals like Portugal and Croatia, Spain remains one of Europe's most popular destinations. Classic Discover Spain is one of Goway's most popular itineraries to the country, incorporating its three most popular cities in an ideal introduction to the country. Globetrotters travel from Madrid to Barcelona (or vice versa), visiting historic, beautiful, and unusual Seville en route. City tours help passengers take in the best city sights without rushing, while added bonuses such as 'skip the line' access at the Prado Museum, and a half-day visit to Montserrat help set the trip apart from other Spain vacations. Passengers who book an eligible October departure by the end of February 2018 will enjoy a discount of up to US $476 / CA $586 off their booking price.
There's perhaps no hotter destination in Europe right now than Portugal. Stepping into the spotlight after years as Iberia's 'other' great sun destination, Portugal is now the place to be. With the secret well and truly out, now is the time to go. Goway's Images of Portugal is a one-week trip starting in Lisbon and ending in Porto. It includes the colourful towers of Sintra, the university town of Coimbra, the Batalha Monastery, and historic Porto. A small group ensures a certain degree of flexibility, and plenty of opportunity to explore. Portugal is already one of the best value destinations in Europe, but passengers who book June 3 or 10, 2018 departures by February 28 will save US $364/ CA $448.
Since 1970, Goway has been providing unforgettable travel experiences to Africa, Asia, Australia, New Zealand, Central & South America, Idyllic Island destinations and Europe. Today Goway is recognized as one of North America's leading travel companies for individuals, families and groups to select exotic destinations around the globe. Goway has offices in Toronto, Vancouver, Los Angeles, Manila, and Sydney, Australia.
For reservations and information, visit http://www.goway.com, or call 1-800-387-8850.