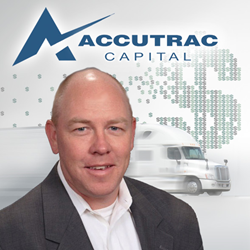 Eric Myers, Managing Director of Accutrac Transportation Factoring Inc. is the ideal go-to-person for transportation business owners seeking to secure funding.
PARK CITY, Utah (PRWEB) February 15, 2018
The Accutrac Capital Group of Companies is proud to announce further expansion with the recent addition of Accutrac Transportation Factoring Inc. Eric Myers, Managing Director of the new subsidiary is a 20 year veteran of financial services. His primary career focus has been to provide working capital products for the trucking industry. Eric's working knowledge and practical experience in both finance and freight transportation positions him as a valued asset for Accutrac Capital and its growing number of customers. Located in Park City, Utah, this office location provides close proximity to the freight factoring company's escalating list of western based clients.
Eric's career success stems largely from learned knowledge, industry related experience and a commitment to providing valued service solutions to meet customer needs. With a bachelor's degree in Business Administration and an MBA in marketing, Eric quickly transited from commercial banking to alternative financial services for the trucking industry. From fleet fuel programs to customized working capital solutions, Eric has provided a number of fiscal services needed to keep fleets operational. Throughout his career Eric has cultivated an in-depth understanding of freight transportation and the specific financial burdens that challenge owners of trucking companies.
"We are extremely fortunate to have Eric Myers head up Accutrac Transportation Factoring Inc," commented Charles Sheppard, President of Accutrac Capital. "His education and experience in trucking is the ideal background to support the company's mandate to provide fast, convenient funding for freight carriers and brokers. Trucking is a capital intense industry. Constant access to working capital is a necessity in order to sustain uninterrupted fleet operations." continued Mr. Sheppard. "When truck company owners recognize the need for a cash flow solution to meet current obligations, it is often a time sensitive issue that demands immediate action. To complicate their urgency even further, traditional banks are governed by restrictive qualification requirements that typically involve a lengthy due diligence process. Most freight carriers and brokers fail to qualify for a conventional loan as trucking is considered to be a volatile and unstable industry from a commercial bank perspective. For this reason, an alternative financial solution is needed to meet the funding needs of a working fleet."
All trucking businesses, no matter what stage of development they are in, require some form of financing to sustain operations. This constant challenge occupies the minds of transportation business owners each and every day. Identifying the right funding solution, selecting the best financial provider, and meeting the qualification requirements to secure a lending facility can be a daunting task for small and mid-size businesses. Consulting with a reputable advisor, fully conversant with the unique aspects of transportation financing is an appropriate first step in meeting this challenge.
Freight factoring is a specialized form of invoice factoring designed specifically for the trucking industry. Although it has become a mainstream financial strategy for growing fleet operations, it is often an unfamiliar choice. Eric Myers has worked both sides of business lending establishments; traditional commercial banking institutions and alternative finance companies. His financial background and extensive knowledge of trucking allows Eric to explicate the distinct advantages of factoring in terms highly relatable to owners of trucking companies.
"Eric Myers, Managing Director of Accutrac Transportation Factoring Inc. is the ideal go-to-person for transportation business owners seeking to secure funding." concludes Mr. Sheppard. "We are more than excited to have him join our expanding organization."
For more information regarding Accutrac Capital and freight factoring, please visit http://www.AccutracCapital.com