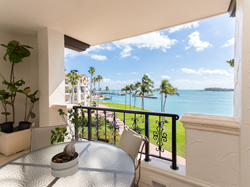 "This move will show confidence and diversification within a growing domestic and global economic landscape, regardless of crypto's fluctuating values", says Vole.
MIAMI (PRWEB) February 23, 2018
Fisher Island, one of America's most exclusive ZIP codes and world's wealthiest private island enclaves, is poised for its first bitcoin luxury listing. This is another move that serves to back bitcoin's bright future and the potentially positive impact of cryptocurrency on the global real estate market in 2018.
Accessible by high security ferry, sea-plane or a mega yacht, the lush 216-acre tropical oasis sits just a stone's throw away from Miami's South Beach. Once the home of Oprah Winfrey and an extensive list of international celebrities and ultra-elite, with past vacationers and visitors including The Kennedys, Donald Trump, Bill Clinton, Igor Krutoy, Gisele Bundchen with her husband Tom Brady and even the Dali Lama, Fisher Island maintains its rich history as a hub for the global elite. Currently, the Islands' residents include titans of Fortune 500 companies, dozens of Billionaires, and sports figures from every corner of the globe such as Caroline Wozniacki, Evgeni Malkin, fashion mogul Max Azria, and former Victoria's Secret model Karolina Kurkova.
Newly listed at only USD $2,050,000 (or its bitcoin equivalent) the elegant residence located at  2333 Fisher Island Drive  is the first Fisher Island property ready to fully accept bitcoin as a method of payment. From the moment you enter the 1,847-square foot two bedroom, two-and-a-half bathroom condo, the level of finishes speaks volumes of its opulence. This luxurious oceanfront home offers crisp natural light throughout with multiple vistas encompassing views of the Atlantic, Biscayne Bay and Miami Beach skylines. Interior residential features include: hypermodern appliances, a top chef-inspired open kitchen area, Lutron automatic lighting, Roman tub, designer bathroom fixtures with impressive 9-head Swiss steam shower and St. Hubert limestone flooring.
Accepting bitcoin was a natural choice for Robert Vole, property owner and broker for The Island Realty in Miami. After speaking with a select few of his fellow Fisher Island neighbors and colleague Stephane Burke, real estate bitcoin expert, the possibility of listing the property with bitcoin was clear. "If there were no other takers, putting one of my own properties up was a natural next step," says Robert Volé, owner of the property and broker of the boutique South Florida realty firm, The Island. "How can I expect clients to be the first to vet crypto real estate trading unless I would do it myself? This move will show confidence and diversification within a growing domestic and global economic landscape, regardless of crypto's fluctuating values."
Purchasing real estate with bitcoin isn't as difficult as it may seem – the buyer and seller need only agree on transacting in bitcoin, mitigate volatility by locking in a price in dollars, and find a title insurance and escrow company that will deal in the virtual currency. And in deals where cash is preferred (or necessary due to state regulations) for all or part of the transaction, companies like BitPay exchange bitcoin for U.S. dollars to complete the sale. The Fisher island listing will be closed through Bitfi.com to ensure smooth handling of the bitcoin exchange and satisfy all closing conditions. Bitfi.com's user-friendly interface and state-of-the-art security features makes cryptocurrency transactions of any size safe and easy for both buyers and sellers.
Although bitcoin has been on uneven footing since the end of 2017, some analysts are predicting a big rise in 2018 – with one analyst forecasting it to hit between $50,000 and $100,000 by the end of the year. Many investors who've made a killing on previous bitcoin bonanzas are now looking for ways to diversify their new-found wealth into asset-backed investments such as real estate. Likewise, bitcoin's entrance into the mainstream has many sellers looking for ways to expand their portfolios with crypto currency. "The driving force behind the decision to list this property for bitcoin is to broaden the horizons for both buyers and sellers," says Volé. "We're looking at the evolution of both the marketplace and the buyer, while offering a new experience for sellers, many of whom are always looking at alternate means of liquidity."
Vole, a former stockbroker and President of the largest condo association on Fisher Island, has over 25 years' experience in developing, speculating and owning a number of properties on Fisher Island and South Florida. This extensive background enables him to bring a wealth of knowledge to the process. "I look forward to advising and empowering a new age of millennials entering the marketplace with serious and quality-assured guidance," he continues. "This will help introduce our firm to new clients, and continue to foster solid long-term relationships." 
Joining Volé's team is Elena Vertlib, a millennial herself and formerly of One Sotheby's, who will aid as the co-listing agent. With a degree in luxury goods from the International University of Monaco and having work experience in Dubai, Russia, Monaco and NYC; Elena brings a great level of refinement and global awareness while serving as international liaison to buyers looking to invest in the South Florida market. Vertlib also spearheads The Island's commercial division with a large portfolio of off-market projects, primarily in the hotel industry. Another of the Island's star millennial assets is Greg Gringruz - luxury residential, investment and commercial specialist. Greg also serves as Fisher Island leasing director at Island Leasing. Raised in Toronto, Canada, and holds a degree in Business & Society from York University, and is fluent in Russian, French, and English.
About The Island: The Island, or TheIslandRealty.com, is a boutique Real-Estate firm offering safe property havens for luxury Residential and Commercial investors. The Island is built on a foundation of providing impeccable client service and a shared vision of elevating its discerning clients' south Florida lifestyle. With a wealth of resources, superior negotiation skills, and over 25 years of customer satisfaction, The Island boasts a global portfolio of discreet partnerships with some of the world's most elite and powerful individuals - from CEO's and celebrities to celebrated athletes. An impressive team of seasoned industry leaders can accommodate international clients in several languages including: English, Spanish, Russian, French, German, Portuguese, Italian, Polish and Danish. Come experience the pleasure of luxury real estate buying, selling, leasing and trading with THE ISLAND.