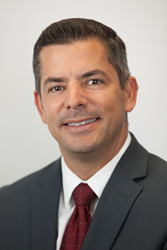 "We are looking forward to creating a flexible, innovative firm that is truly focused on proactive value-added client service while heavily leveraging relationships, knowledge and technology." - Mark Tackmann, Managing Partner of Gelman LLP
SANTA ANA, Calif. (PRWEB) February 15, 2018
Gelman LLP, a leading California certified public accounting and business advisory firm, is proud to announce Mark Tackmann as its Managing Partner, succeeding Larry Kane. Regarding the transition, which is effective immediately, Larry said, "We are very fortunate to have so many qualified exceptional leaders in the firm. The unanimous agreement of Mark as our new Managing Partner is outstanding for us. Mark's leadership skills and business acumen are tremendous assets that will help propel continued success for Gelman. Mark's vision for the firm's future is inspiring and very exciting for all of us." Mark said, "We are looking forward to creating a flexible, innovative firm that is truly focused on proactive value-added client service while heavily leveraging relationships, knowledge and technology. Gelman is a firm with a depth of expertise in the construction industry and we will continue to reinforce this niche, while also providing valuable insight and technical expertise to a broad range of industries."
Mark has 23 years of experience in public accounting, and worked with Gelman LLP previously. He rejoined the firm in August 2017 after spending the last 12 years as a Partner with two Orange County based CPA firms where he was instrumental in growing strategic advisory services, shaping the client-centric service models and using advanced technology to streamline and enhance the clients' experience. Mark is adept at strategic business planning, mergers and acquisitions, financial analysis, and integrating both tax and assurance services. He has worked extensively with companies with annual revenues ranging from 10 million to over 1 billion.
Mark is licensed as a Certified Public Accountant in the state of California, has earned his Master's degree in Business Administration from the University of Southern California and a Bachelor of Science degree in Business Administration with an emphasis in Accounting from the business school of California State University, Dominguez Hills. Mark is also an active member of the American Institute of Certified Public Accountants and the California Society of Certified Public Accountants.
OTHER PROMOTIONS:
Lisa Green was promoted to Senior Partner in charge of assurance services for Gelman LLP. Lisa has been with Gelman since 1995 and has a long history of providing excellent service to the firm's clients. Lisa graduated from San Diego State University with a Bachelor of Arts degree in Business Administration with a concentration in Accounting. She has extensive experience serving growing, closely-held companies with an emphasis in the construction industry and employee owned companies. Lisa has memberships in the American Institute of Certified Public Accountants, California Society of Certified Public Accountants, National Center for Employee Ownership (NCEO), the ESOP Association and the National Association of Women in Construction (NAWIC).
Tackmann said, "Lisa's long history of staying well-informed of the continually changing assurance landscape and her ability to translate the changes to meaningful recommendations for our clients and team members has proven invaluable." Lisa is also an expert in Employee Stock Ownership Plans (ESOPs). Her national contacts in the ESOP arena seek out Lisa to assist their clients in complying with the very complex accounting and tax issues associated with ESOPs. Lisa, when asked how she became so adept in her understanding of ESOPs replied, "Glenn Gelman, our late founder, absolutely loved ESOPs and I share that passion. I have worked on and managed numerous ESOPs and there is always something new and challenging to learn. I find them to be a great option for a company's succession plan."
Jay Donovan joined Gelman LLP as a Senior Tax Partner responsible for tax department administration in November 2017. Jay has more than 30 years of public accounting experience, including Big 4 and Fortune 100 experience. He utilizes a broad range of problem solving skills to serve closely-held, entrepreneurial businesses and their owners in real estate, construction, manufacturing, distribution, publishing and service industries. Jay works with clients in the areas of wealth creation and preservation, leveraging tax efficient strategies. Tackmann said, "We are extremely fortunate to be able to add such a tremendous asset to our Gelman team. Jay's experience and knowledge will be critical in helping the firm to continue to be on the forefront of servicing our clients' tax and related consulting needs."
Jay graduated Magna Cum Laude from California State University at Long Beach with a Bachelor of Science in Business Administration with an emphasis in Accounting. He also graduated with honors from Golden Gate University with a Master of Science in Taxation. Jay has memberships in the American Institute of Certified Public Accountants and California Society of Certified Public Accountants.
Larry on the promotions, "We are currently in our 35th year of public accounting. The leadership we have at the top, lead by Mark, puts us in a great position for the next 35 years." Larry will retain his position as Chairman of the Executive Management Committee.
###
ABOUT GELMAN LLP:
Gelman LLP (http://www.gelmanllp.com) is a premier accounting firm in Southern California committed to providing superior tax planning, auditing, accounting, business management consulting and business valuation services to private businesses and individuals to enhance profitability, save taxes, improve accountability and preserve wealth. As a local firm, with national and international resources, Gelman LLP attracts talented and experienced staff members who provide clients with service that exceeds expectations.
CONTACT:
Gina Colene, Marketing Manager
Gelman LLP
(714) 667-2600
info@gelmanllp.com