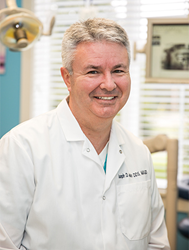 WARREN, Ohio (PRWEB) February 15, 2018
In recognition of American Heart Month, experienced general dentist Dr. Joseph Bedich raises awareness within his community of the connection between heart disease and untreated gum disease. Warren, OH, residents are invited to visit his office for a gum disease screening and consultation, as Dr. Bedich welcomes new patients with or without a referral. Research indicates a link between uncontrolled gum disease and a number of systemic health conditions, including heart disease. Dr. Bedich is committed to educating his patients about the symptoms of gum disease, and dangers of leaving the progressive condition untreated. He takes a personalized approach to improving oral health and offers several gum disease treatment options in his modern, established dental practice.
Scientific research shows a relationship between untreated gum disease and heart disease. Researchers believe the link between the two conditions stems from inflammation caused by bacteria that travel from the mouth through the bloodstream, increasing the risk of heart attack or stroke. For these reasons, coupled with major oral health concerns, Dr. Bedich advises that symptoms of gum disease should never be ignored, and that patients should visit a dentist for a gum disease screening and treatment if the condition is present.
A number of symptoms may indicate the presence of gum disease. Warren, OH, patients with the oral condition may experience bleeding, swollen, red or tender gum tissues. Bad breath, gum recession and tooth mobility are symptoms also common to the disease. Without treatment, gum disease may lead to a host of oral problems, including bone deterioration around the teeth and tooth loss. Dr. Bedich recommends gum disease screenings to identify and treat the condition as early as possible. Dr. Bedich offers a number of effective treatment options, including scaling and root planing therapy and gingivectomy, and ongoing periodontal maintenance to help manage gum health following gum disease treatment.
Patients interested in scheduling a screening for gum disease in Warren, OH, or who want more information on the link between gum and heart disease from an experienced dentist, are invited to call Dr. Bedich's office at 330-615-1598 for an appointment, or visit http://www.adazzlingsmile.com for more information.
About the Doctor
Dr. Joseph D. Bedich is a general dentist in Cortland, OH offering personalized dental care to patients. Dr. Bedich understands the importance of learning the most cutting-edge techniques, which is why he has taken over 2,500 hours of continuing education in a wide variety of services including sedation, implant dentistry, sleep apnea, cosmetic dentistry and head and neck pain management. To learn more about Dr. Bedich or the services he offers, visit his website at http://www.adazzlingsmile.com or call his office at 330-615-1598 to schedule an appointment.