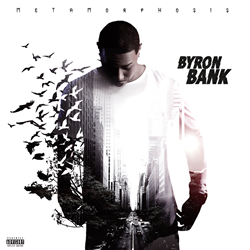 As an artist, I'm about making music that people can relate to. I want to bring the modern style back to the classic hip-hop sound. I'm about saying what others are afraid to say and that's taking chances while asking for forgiveness later.
HOUSTON (PRWEB) February 14, 2018
Byron Bank is thrilled to announce the release of his newest EP, "Metamorphosis" available on iTunes, Spotify and various other platforms on March 30, 2018 along with an exclusive endorsement with Vinci, the newest innovation with music and technology.
"Metamorphosis", a five song EP taking you into the creative realm of Byron Bank, and experiencing the different elements of him, not only as an artist, but as a brand. "S.W.A.G" (Successful Wise Ambitious Gentleman) and "Wipe It Off" are the first songs to start the metamorphosis cycle. The confidence, vocally expressed, paints a clear picture with the use of his witty vocabulary and modern, energetic production. Then there's "Dirty Secrets", a secret, narrative adventure of storytelling followed by "Random Thoughts" using a swing, jazzy touch to accompany the thoughts of Byron Bank. "Bended Knee" finalizes the EP with a political outlook, pinpointing touchy subjects such as racism, injustice and police brutality, but the poetic lyrics and gospel-like production makes this risky song a masterpiece.
With the success of Byron's previous releases and visionary background, a major endorsement with Vinci is now in place and ready to launch. Not only do Vinci and Byron Bank both have successful stories, they both respect the importance of innovation with music and technology. Vinci created the first AI (Artificial Intelligence) smart headphones and is scheduled to hit the market soon. Bank is stoked to be part of the Vinci journey and transform the way the world listens to music.
Byron Bank is the Hip-Hop artist that understands the meaning of tenacity and hard work. A Houstonian at heart, Bank always aspires to make his mark not only local but to be globally known.
If you would like more information about this topic, please contact Byron Bank Management at 281-306-9492 or email at bookings(at)thebyronbank(dot)com.