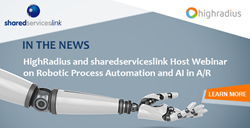 HOUSTON (PRWEB) February 13, 2018
On February 14 at 12pm EST, sharedserviceslink and HighRadius will host a complimentary webinar on how order-to-cash teams could prevent failures on automation projects.
More than 40% credit and A/R teams report that their technology projects have not met ROI targets and require internal IT resources and recurring costs for maintenance and up-keep. The golden rule for A/R automation is to "identify what needs automation, learn what could be achieved with technology, and to define expected results."
Title: Robots and Order-to-Cash Tragedy: 5 Dos and Don'ts with RPA
When: February 14, 2018 at 12:00 PM Central Time
Presenters:

Susie West, CEO, sharedserviceslink
Kiran Rana, Director – Solution Engineering, HighRadius
Register for the webinar here.
About sharedserviceslink
The mission of sharedserviceslink is to stimulate and support growth and maturity in the shared services and outsourcing market with the belief that when the back office runs beautifully, the front office has the freedom to focus on the primary goals of the organization. This is done by providing connections and sharing knowledge with members of the shared services market, helping their businesses thrive and making the world economy stronger. They use the cumulative knowledge of the growing community to offer insight and build value, enabling members to provide a better service to their customers. sharedserviceslink's services include events, surveys, webinars and recruitment, whilst the sharespace website is a source for news, insight and suppliers, with resources to help set strategy through benchmarking, cases studies and connecting peers to discuss their plans and experiences. To know more, please visit http://sharedserviceslink.com, https://sharespace.digital
About HighRadius Corporation
HighRadius is a Fintech enterprise Software-as-a-Service (SaaS) company. The HighRadius™ Integrated Receivables platform optimizes cash flow through automation of receivables and payments processes across credit, collections, cash application, deductions, electronic billing and payment processing. Powered by the Rivana™ Artificial Intelligence Engine and Freda™ Virtual Assistant for Credit-to-Cash, HighRadius Integrated Receivables enables teams to leverage machine learning for accurate decision making and future outcomes. The radiusOne™ B2B payment network allows suppliers to digitally connect with buyers, closing the loop from supplier receivable processes to buyer payable processes. HighRadius solutions have a proven track record of optimizing cash flow, reducing days sales outstanding (DSO) and bad debt, and increasing operational efficiency so that companies may achieve strong ROI in just a few months. To learn more, please visit http://www.highradius.com.
For More Information Contact:
Taylor Bartlett
Marketing Coordinator
taylor.bartlett@highradius.com