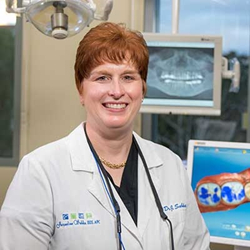 THOUSAND OAKS, Calif. (PRWEB) February 15, 2018
During American Heart Month, Dr. Jacqueline Subka raises awareness of the harmful effect untreated gum disease can have on the heart. Warning her community of this connection, she advises anyone with common symptoms of gum disease, such as swollen or bleeding gums in the Thousand Oaks, CA area, to receive a consultation.
Dr. Subka is inviting people throughout the region to make appointments to discuss their dental issues. Her goal is to help those with gum disease "red flags" such as inflamed gums, persistent bad breath, and mouth sores, to learn the best ways to manage the underlying problem. One such way is through modern, safe, effective laser therapy.
Dr. Subka prefers utilizing lasers whenever possible for a variety of reasons. Leading her list is the comfort of the patient. "The amount of post-operative discomfort is greatly reduced," she explains when discussing laser gum therapy solutions. "We don't have to do any incisions or suturing and the results are phenomenal."
Lasers have become the gold standard in care for all stages of gum disease, from reversing very early gingivitis to keeping periodontitis from spreading. Treating gum disease is not just good for the mouth, but for the whole body—especially the heart.
Research has shown a strong link between people with periodontal disease and heart disease. It is thought that former condition exacerbates the latter one by releasing bacteria into the bloodstream. The bacteria cause inflammation and other issues, forcing the heart to work less efficiently. For people with already existing heart disease, the need for constant monitoring and treatment of their oral health becomes even more essential.
Patients who have experienced issues like bad breath or bleeding gums in Thousand Oaks, CA, can reach Dr. Subka for a complimentary consultation at 805-373-1919 in a comfortable, judgment-free setting.
About the Doctor
Dr. Jacqueline Subka is general dentist offering personalized dental care for patients in Thousand Oaks, CA since 1999. Dr. Subka received her dental degree from the prestigious University of Southern California School of Dentistry in Los Angeles. Dr. Subka practices gentle dentistry and incorporates state-of-the-art techniques to provide leading, minimally invasive care. She and her team are committed to continuing education and strive to provide high-quality, personalized dental care to each patient. To learn more about Dr. Subka and the dental services she provides, visit her website at http://www.subkadds.com or call 805-373-1919.