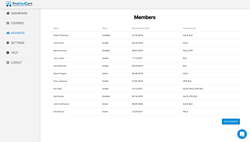 We know Healthcare administrators wear many hats, and, until today, they've had to log into multiple systems to manage certification compliance, process paperwork, and access employee information.
(PRWEB) February 15, 2018
ProMed Certifications, ProMedCert.com, has officially released a new group compliance portal for medical certifications (ACLS, BLS, PALS, CPR, etc.), effectively replacing day-to-day compliance management for small and large organizations. After focusing on simplifying the certification process for individual healthcare professionals, ProMed is now expanding to provide assistance with employee compliance for medical companies. Today, it has announced the next step in its evolution with the launch of new tools for the Healthcare compliance space.
In addition to the new features being announced, ProMed also revealed that it served more than 10,000 medical professionals in the last year, proving that certifying online is an increasing trend for both healthcare professionals and companies.
The move into employer compliance could be considered new for ProMed, though some of the employer services it offers have been available on the platform for some time, including group discounts on cumulative purchases, employee compliance updates and more. But today's release is a formalized program and online portal that comes with several new key features, such as automated expiration reminders, one-click enrollment, simplified member management, and instant user exam statistics. Administrators can now invite their members to complete their certification online with ProMed, which provides them with all the information, courses and tests required for compliance. With ProMed courses, employees can certify entirely online without taking PTO or traveling to an on-site testing facility. As the member moves through the course and exam, the group's administrator will have instant updates on their progress.
Because healthcare professionals have to complete their medical certifications every 2 years, such as ACLS, PALS, BLS, and CPR, maintaining compliance for an entire staff can be daunting for administrators. ProMed has compiled all the standard certification courses into a comprehensive online educational service. The platform also acts as a centralized place to find and download provider cards and CME certificates and eliminates the need for administrators to manually track expiration and renewal dates.
Healthcare Companies can also take advantage of a company discount that utilizes a cumulative algorithm to offer a unique ever-growing discount for loyal customers.
"We know Healthcare administrators wear many hats, and, until today, they've had to log into multiple systems to manage certification compliance, process paperwork, and access employee information," said Dave England DO, ProMed's Chief Medical Director. "ProMed gives them one home for certification compliance."
For ProMed Certifications, these new tools are part of its mission to "empower medical professionals." Dr. England claims that everything in his company's road map has been informed by "thousands of conversations, feedback, surveys, and focus groups." He believes that traditional medical education services are not leveraging technology to improve medical education and certification: "It's a slow, painful, and redundant process. Time is a valuable resource for healthcare professionals, and if we can kind find ways to make their lives easier, we are doing the world a tremendous service."