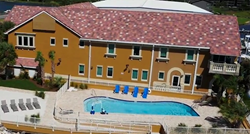 In short, undergoing chronic relapse may be one of the surest signs that it is time to try something different, such as a holistic, non-12 step recovery program. Barnet Gilmer, CEO
GULF BREEZE, Fla. (PRWEB) February 15, 2018
Overcoming addiction is an important and challenging process. The path to recovery is often littered with both successes and disappointments. Experiencing a setback can feel devastating, especially if you or your loved one views their relapse as a sign that they have failed or that, because of repeated relapses, they will likely be an addict forever. That is not what relapse, even chronic relapse, means. Shifting that understanding is one of the first steps toward lasting recovery.
Chronic Relapse May Signal Just Needing a New Strategy
Too often, we hear from individuals who feel that they have tried everything to move on and overcome their addiction only to continually relapse, sliding back into old habits and never fully moving into recovery. When speaking with people who have attended alcohol and addiction treatment multiple times and continue to experience chronic relapse, one thing becomes clear: even though they may have gone to different facilities at different locations, they have only participated in just one program—a traditional, 12-step program.
Traditional, 12-step programs (like Alcoholics Anonymous and Narcotics Anonymous) are the predominate models of recovery. The popularity of this modality of treatment can make it seem as though 12-step recovery is the only model available. This assumption is not the case. It is also not true that, if traditional, 12-step recovery has not been successful, that recovery is impossible or unavailable. Experiencing chronic relapse may simply mean that it is time to try a new strategy for recovery.
In short, undergoing chronic relapse may be one of the surest signs that it is time to try something different, such as a holistic, non-12 step recovery program, says Barnet Gilmer Gulf Breeze Recovery CEO.
Some Holistic Recovery Programs Specializes in Chronic Relapse
While other recovery programs provide individuals a list of tasks and checklists to pursue as part of their addiction treatment strategy, holistic recovery takes a different approach.
Instead of focusing on a disease and what "not" to do, the THRIVE® program at Gulf Breeze Recovery is a holistic, non-12 step recovery program that focuses on health and works to help program participants understand and accept the true underlying cause of their addiction. This acceptance helps people to move from an intellectual to an insightful understanding concerning not only the nature of their addiction, but also the nature of their psychological functioning regarding relapse. Education and insight are at the heart of our program and we strive to help our residents develop the understanding and awareness necessary to live the healthy, happy lives that are always available to us.
If you or a loved one is suffering from addiction or from chronic relapse, please contact our highly-trained representatives to learn more about our program. It is our mission to help people live healthy and happy lives. Do not let the predominant models of therapy and understandings of addiction limit you or your loved one from experiencing true recovery and the subsequent happiness that is available to everyone.
About Gulf Breeze Recovery: Gulf Breeze Recovery is changing the future of addiction treatment with the THRIVE® program, focused on overcoming chronic relapse. Gulf Breeze Recovery's THRIVE® program is designed for those who are looking for a drug and alcohol treatment program to produce a different and positive result. This non-12 step program allows you to drive beyond your addictions and promotes a new outlook on life. For more information about our program or to speak with an addiction expert, please call 855-973-3551 or contact us.
https://www.gulfbreezerecovery.com/contact/.