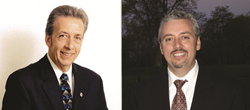 By combining our first-hand knowledge of our community, our deep understanding of the current real estate market and trends with state-of-the-art technology and unparalleled service we are ready, willing and able to meet all your real estate needs
MARTINSVILLE, N.J. (PRWEB) February 13, 2018
Michael Santini and David Santini, Golden Key Realty, are featured in a special section of the March issue of New Jersey Monthly as 2018 Five Star Real Estate Agent award winners.
Five Star Professional partnered with New Jersey Monthly to identify and showcase an exclusive group of real estate agents who have demonstrated excellence in their field. Less than 1% of agents in the New Jersey-area received this recognition.
"At Golden Key Realty, we take great pride in being a family-operated business. Since 1972, our founder and father, Joseph Santini, pioneered the old-fashioned values of hard work and honesty as the cornerstone of our company. Today my brother, David Santini, my son Cody Santini and I take great pride in continuing in our founder's footsteps. By adhering to the 'golden rule,' our family of fine agents continues to strive to provide the utmost in personal service and commitment to our clients. We have been often imitated, but never duplicated. By combining our first-hand knowledge of our community, our deep understanding of the current real estate market and trends with state-of-the-art technology and unparalleled service we are ready, willing and able to meet all your real estate needs," said Michael Santini, Broker / Owner ABR of Golden Key Realty.
The 2018 Five Star Real Estate Agent award winners have been carefully selected for their commitment to professional excellence and overall client satisfaction. The award is based on rigorous research with significant focus on customer feedback and providing quality services.
"Our list of local Five Star Real Estate Agents can be an invaluable resource for anyone looking to buy or sell a home. These agents are exceptional in their field and their commitment to client satisfaction; and are right in your backyard," Dan Zdon, CEO, Five Star Professional.
See Michael Santini and David Santini's Five Star online profile here!
"We provide in-depth, in-town knowledge and state-of-the-art technology, delivered with old- fashioned, quality service. We take pride in our dedication to providing the highest level of service. This pride and hard work ethic has earned us the trust and confidence of all our clients. We have the experience to handle every imaginable situation or transaction with honesty, professionalism and enthusiasm. Our dedication to helping clients is evident in the fact that we are ready, willing and able to assist you seven days a week," said Michael Santini. "Your Future is our number one concern. Whether you are buying, selling, building, investing or renting, we are prepared to listen to your needs, promote your interests, negotiate on your behalf and get the job done. We value our clients and know that working well together is the key to success."
Now entering its 15th year, Five Star Professional conducts in-depth, market-specific research in more than 45 markets across the United States and Canada to identify premium service professionals.
Five Star Professional contacts thousands of recent homebuyers to identify award candidates. Phone and online respondents rate their real estate agent on 10 satisfaction criteria. Candidates with a qualifying client satisfaction rating move on to be evaluated on objective criteria such as experience, production levels and disciplinary and complaint history.
Real estate agents do not pay a fee to be considered or awarded. For more information, visit http://www.fivestarprofessional.com.