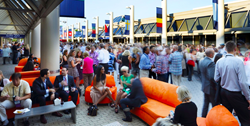 SAN DIEGO (PRWEB) February 14, 2018
ACCESS Destination Services announced today it is expanding into Boston, further building upon its presence in the northeastern United States. Best of Boston Events, a Dav El|BostonCoach Company – ranked as the #1 Meeting and Event Planning Company by the Boston Business Journal for 12 consecutive years -- will become ACCESS Boston.
The new ACCESS Boston will draw on its 30-plus year history of providing best-in-class DMC services in the greater New England area. The team, which has successfully managed tens of thousands of events over this time, will continue to be led by Lisa Censullo, President & CEO.
"We are very excited at the opportunities that working with ACCESS will bring to our customers, and our business," said Censullo. "ACCESS literally invented the term 'destination management' and we look forward to expanding beyond our New England roots with our new partners and brand."
ACCESS President and CEO Chris Lee commented that, "We're very fortunate to have Lisa and her team join forces with ACCESS. Their long-term industry experience, extensive local knowledge and focus on customer service is well established. ACCESS' continued growth comes from our commitment to add partners like ACCESS Boston, whose values and vision complement our own. We're pleased to once again respond to our clients' requests and ensure that we can be where they want and need us the most."
About ACCESS
Founded in 1969, ACCESS sets the standard for excellence in award-winning, experiential destination management services and event production throughout North America and the world. Through a global alliance with Pacific World and Amstar, ACCESS serves over 100 destinations throughout 30 countries. With global reach and local expertise, ACCESS meets client objectives and exceeds expectations for corporate, incentive and association groups.
About Best of Boston Events
Best of Boston Events, a Dav El|BostonCoach company – now ACCESS Boston -- has been in the business of convention, meeting, and special event management for over thirty years. The company is known as the group in New England to call for creativity, attentive personal service, meticulous attention to detail and the highest level of professional meeting and event management. To learn more about ACCESS Boston's services, call (617) 545-6466.