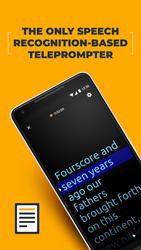 NEW YORK (PRWEB) February 14, 2018
PromptSmart, the highest ranked and smartest teleprompter app with hundreds of 5-star reviews for iOS is excited to announce the highly anticipated launch of its PrompSmart Pro app for Android today.
All of the features users love about PromptSmart Pro are included, plus a new look and feel:

VoiceTrack
Video Recording
Mirroring text for use in teleprompter rigs
Extended subscription, including a Remote Control, File Sync and cross-compatibility with iOS (i.e. one subscription works on both platforms with no additional charge)
Redesigned modern UI/UX,
Many, many others!
Co-founder Jeremy Sadkin on PromptSmart Pro for Android: "Our users frequently reached out and asked about an Android option. We took that feedback to heart and built this app from the ground up. We are proud to present it now and to continue our tradition of innovation to become the most technologically advanced mobile teleprompter platform available."
About PromptSmart:
PromptSmart's iOS and Android apps have leveled up public speaking and mobile teleprompting with innovative technology. Our patent-pending VoiceTrackTM speech recognition engine drives the platform, allowing our apps to seamlessly follow along as you speak and to adjust the speed of scrolling text in real time based on the speaker's actual words and pace – all without the need for a data connection. Because the speaker is in total control over the scrolling, PromptSmart delivers a more intuitive experience than even traditional teleprompters and needs no speed calibration.
PromptSmart is the ultimate presentation companion for anyone getting up in front of a crowd or using a script: public figures, business leaders, video producers/actors, broadcasters/field reporters, social media personalities, clergy, students, lecturers, or even bridesmaids and best men!
For additional information on PromptSmart, visit http://www.PromptSmart.com, like PromptSmart on Facebook, and follow @PromptSmart on Twitter.