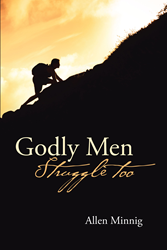 FORT CALHOUN, Neb. (PRWEB) February 20, 2018
"Godly Men Struggle Too" is the creation of published author, Allen Minnig, a licensed master therapist and survivor of a traumatic, abusive childhood. Through intentional and weighty exercises, men will be forced to rise up and become fearless warriors in the war raging inside their hearts.
Allen shares with readers, "I was born and raised in a violent, verbally abusive family of the worst kind, a Stephen King story about brutality and horror and nightmares. By the time I was in fifth or sixth grade, drugs and alcohol would help deaden the horror I lived through. I came very close to dying at the age of fifteen due to an overdose. At sixteen, I was diagnosed with PTSD due to my living environment. I was rage-filled, quitting school at sixteen, without hope and wanting desperately (almost succeeding) to burn my brains out with drugs so I could no longer feel the pain of my wounds. I encountered Christ at a David Wilkerson evangelistic crusade. It was the first time I ever felt loved. Nevertheless, for decades I struggled with rage and self-loathing, wishing I had been aborted. Many times, I swore at God, daring him to fight me. He never did. I came to realize it was because I needed a father who would love me and allow me to voice my pain without being hurt…He showed me that though the enemy of my soul thought he was destroying me, he, God, was using that to train me to be his champion for the hurting and wounded. God didn't cause my wounds but he would use them for his greater purpose. What the adversary meant for harm, God used for good as I am a licensed master level therapist. God is just not my father he is my Abba and my best friend, Jesus is not just my Savior, but he is also my king, brother, and friend."
Published by Christian Faith Publishing, Allen Minnig's manual is not about behavioral modification. Behavioral modification means to diminish one's behavior or extinguish one behavior in favor of another over time. For example, an individual might be encouraged to read more Scripture, memorize more scripture, attend church more often, engage in more prayer and so on. The assumption is that doing these things will make individuals better Christians, which will make them feel better. They will appear more spiritual to others and gain the respect of others. It is, however, analogous to wearing a mask. It is the Old Testament way of covering up the past by avoiding the real problems.
"Godly Men Struggle Too" is a manual for a deeper healing. It is a guide to restoring one's heart. It is a guide to restoring the pain and loss of the past. It will restore readers to who God intended them to become in his design for them as his sons and knights. The boy in all men begs them to protect him. He begs them to become the men they were designed to become. Rise up to become a warrior and take the needed risk into the mystery of healing. Without risk, there is no life. Men were designed to take risks. It is natural to fear exposure and feel vulnerable, but the path to healing requires the warrior to achieve victory in his own war through fearlessness.
View a synopsis of "Godly Men Struggle Too" on YouTube.
Consumers can purchase "Godly Men Struggle Too" at traditional brick & mortar bookstores, or online at Amazon.com, Apple iTunes store, or Barnes and Noble.
For additional information or inquiries about "Godly Men Struggle Too", contact the Christian Faith Publishing media department at 866-554-0919.