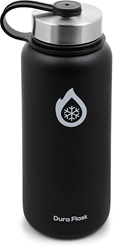 My DuraFlask kept my drink as cool as it was when I poured my drink in from the fridge 10 hours ago. Amazing work, AquaBlss - D. Reid
WILMINGTON, Del. (PRWEB) February 16, 2018
AquaBliss is proud to launch its newest brand and product – the DuraFlask. It is stainless steel, vacuum insulated water bottle, designed for a slew of applications.
AquaBliss (a family-owned company) has been on the forefront of providing clean, pure drinking water to homes throughout the US. The company primarily specializes in designing and manufacturing portable water solutions, water filters, and shower environments – and has a plethora of products they intend to launch shortly.
DuraFlask is their latest in cutting-edge innovations in the form of a highly functional, insulated water bottle to keep your hot beverages nice and warm while keeping cold drinks at an optimal, chilled temperature.
There is just a wide array of benefits for people selecting the DuraFlask as their water bottle. First up, you are never going to have to worry that your water, protein shake or juice will go warm as you're busy working out. There will be no need for you to put the DuraFlask in a refrigerator in the gym.
The same goes for people who love to take their coffee to work or a warm beverage during the cold months of the year. The DuraFlask is going to keep your hot drinks at the desired temperature – so that you are energized by a warm cup of coffee or hot chocolate anytime time of the day at work.
The DuraFlask is designed with a standard mouth to make sipping easy and spill-proof. Moreover, DuraFlask is a cost-effective alternative to plastic water bottles, saving you a ton of money in the long-run. Plastic bottles can prove to be way expensive as people typically throw the bottle away after drinking all the water.
This is also the case where the water becomes warm and undesirable drink. With the DuraFlask, you will never have this problem. Plus, AquaBliss's newest item is utterly chemical free, which means you won't have to worry about that weird taste or smell you get from plastic bottles. The water bottle is BPA free, which means a healthier you and a healthier environment.
The DuraFlask comes in a variety of colors and is available at Amazon.com.
AquaBliss is so confident that customers will be delighted with the new DuraFlask, that the company is offering a 30 day money back guarantee & for a limited time, customers can save 20 percent by entering DURAFL20 at checkout on Amazon: https://www.amazon.com/water-bottle/dp/B076DKLTYB
So, if customers don't feel that their drinks are kept at the temperature as they expected, they'll be able to request a full refund - no questions asked.
To find out more about AquaBliss and their product range, visit http://www.AquaBliss.com or like the AquaBliss page on Facebook to join the growing community of shower enthusiasts that receive exclusive bathroom information and tips.