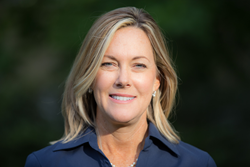 My buyers and sellers are truly very special to me during the process of buying and selling real estate. We work so closely together, and communication is key to ensuring not only a successful outcome, but a good relationship
HADDONFIELD, N.J. (PRWEB) February 14, 2018
Five Star Professional is pleased to announce Darcy Durham, Lenny, Vermaat and Leonard, has been chosen as one of New Jersey's Rising Star Real Estate Agents for 2018.
Five Star Professional partnered with New Jersey Monthly to recognize a select group of New Jersey real estate professionals who, in only a short period of time as agents, have performed at a high level with strong client satisfaction. Darcy Durham is featured, along with other award winners, in a special section of the March issue.
"I am truly honored and quite humbled by this award, knowing that evaluations by my clients were behind the award. My buyers and sellers are truly very special to me during the process of buying and selling real estate. We work so closely together, and communication is key to ensuring not only a successful outcome, but a good relationship. This award validates all the late evenings, early mornings and long days working to ensure that my clients are well attended to at all times," said Darcy Durham of Lenny, Vermaat and Leonard.
As part of the Rising Star Real Estate Agent award program, agents are measured using an objective, in-depth research methodology with significant focus on customer feedback, sales volume and overall satisfaction.
"Rising Star Real Estate Agent award winners are agents to watch. Based on their impressive sales volume, transactions and client service they show tremendous potential to excel in the profession for years to come," says Jonathan Wesser, VP of Operations, Five Star Professional.
See Darcy's Five Star Professional online profile here!
"The rewards of working with both buyers and sellers, in both residential and commercial real estate, have been astounding. I never could have expected how quickly my business would grow. I am truly privileged to be in a career where it is my passion," said Darcy Durham.
Now entering its 16th year, Five Star Professional conducts market-specific research in more than 45 markets across North America to identify premium service professionals.
Five Star Professional contacts recent homebuyers and seasoned real estate professionals to identify Rising Star award candidates who are strong performers, provide superior customer service and embody professional excellence. Candidates are also evaluated on objective criteria such as experience, production levels and disciplinary and complaint history.
Real estate agents do not pay a fee to be considered or awarded. For more information, visit http://www.fivestarprofessional.com.