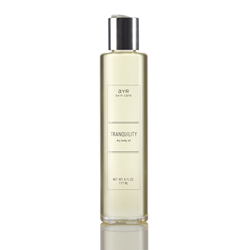 "When you rub it on, it absorbs quickly and easily. It leaves a satiny-soft and glowing finish. You can put clothing on straight afterward."
SAN JUAN CAPISTRANO, Calif. (PRWEB) February 15, 2018
Ayr Skin care, a family-operated beauty care company based in San Juan Capistrano, California, just introduced its newest product "Tranquility Dry Body Oil" as a natural alternative to lotions or creams. Dry Body Oils are most commonly found in luxury spas around the world.
"When you rub it on, it absorbs quickly and easily," said Fiona Briggs, vice-president of Ayr Skin Care marketing and operations. "It leaves a satiny-soft and glowing finish, allowing users the ability to put clothing on straight afterward."
Briggs adds the "Tranquility Dry Body Oil" is for all skin types, but, it's "exceptional" for people with dry and sensitive skin. "It is especially helpful during the cooler winter months because it sinks in and provides moisture right away," she said. Among the ingredients are macadamia nut oil, apricot oil, and olive squalene. The macadamia nut oil naturally conditions the skin and leaves it softer and more supple, Briggs said. "The apricot oil and squalene help reduce and slow the visible signs of aging".
Other ingredients include natural vitamin E, a powerful antioxidant which assists with vital cell regeneration. The product also contains pure neroli essential oil which gives a subtle scent of orange blossoms. Rare sandalwood and lavender essential oils provides relaxing aromatherapy for a spa like experience. "It's the perfect luxury touch after bathing." Briggs said.
Verified buyers are giving "Tranquility Dry Body Oil" five star reviews across the board. One first time customer writes that it makes her feel "silky smooth all day long, and the light, relaxing scent is divine." Another verified buyer writes she's "pleasantly surprised by how refreshing and light it feels" on her skin.
Another five star review calls the body oil "exceptional in every way." Another woman writes that she uses it on her whole body and finds her "dry skin is changing back into luxurious skin."
"Tranquility Dry Body Oil" comes in a six fluid ounce bottle for $80 at AyrSkinCare.com
The Ayr Skin Care product line was developed by Briggs' mother and company founder, Kirsten Thomas. "She always had very sensitive skin," Briggs said. "As she hit her 40s and 50s, she wanted strong anti-aging benefits without harsh synthetic products."
"Tranquility Dry Body Oil" and the rest of the Ayr Skin Care product line has its origins from creams, serums, soaps and oils Thomas developed to meet her sensitive skin care needs. The company is named after the Scottish coastal town where Thomas' mother was born – Ayr. More information is available at AyrSkinCare.com or call (949) 545-6955.