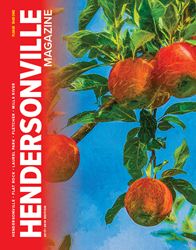 We're seeing a magazine pick-up rate of close to 1,000 copies per week on average.
Hendersonville, NC (PRWEB) February 17, 2018
Hendersonville Magazine has experienced a significant increase in readership in conjunction with the growth of relocation and tourism in Henderson County and surrounding areas. In 2017, Hendersonville Magazine increased annual printing for the 4th year in a row to keep up with growing demand for information about the community. 50,000 copies of the current edition were printed in May 2017, up from 45,000 printed in 2016. With only a few months until the 37th annual edition publishes in late May, almost all of the 50,000 copies have been picked up.
"The steady increase of relocation and tourism is definitely driving Hendersonville Magazine's audience growth," said Brett Hulsey, publisher of Hendersonville Magazine and president of Hulsey Media, Inc. "For many years, Hendersonville Magazine distributed 35,000-38,000 annual copies that were enough to serve the region for 12 months. Around 2014 we noticed that 38,000 copies weren't enough to last a full year, and since then we've had to add 3,000-5,000 more copies every year."
Hulsey cited increased traffic and magazine pick-up at the Henderson County Visitor Center, Asheville Visitors Center, and the North Carolina Welcome Centers on I-26 at the South Carolina and Tennessee state lines as key factors. Mailings through the Henderson County Visitors Center's relocation request program as well as by local Realtors® to out-of-market buyers have extended the reach of Hendersonville Magazine.
"Relocation is a by-product of tourism in Henderson County because most new residents come to the area as visitors first," said Beth Carden, Executive Director of the Henderson County Visitor Center. About 40% of our visitors come back into the Visitor Center before they return home and tell us they had such a good time on vacation in our community that they want to live here."
"Despite our expansion to regional distribution outlets like the state Welcome Centers and high traffic visitor locations in Asheville, we still see that approximately 50% of the Hendersonville Magazine copies we print each year are picked up in downtown Hendersonville at real estate offices, restaurants, coffee shops and retail stores," said Hulsey. "We're seeing a magazine pick-up rate of close to 1,000 copies per week on average, which means we'll print 50,000, if not more, for the 2018-19 edition this May."
Asheville Regional Airport, the main hub for out-of-town-visitors to the area and another key distribution point for Hendersonville Magazine, has seen a record number of travelers coming into the area recently. In 2017, the airport experienced the highest number of annual passengers in its history, with a 50% increase in passenger numbers from just 5 years ago.
"Over the last few years, we've had frequent calls from the airport asking for more magazines to go in their information center. 'We need more magazines!' is something we're hearing quite a bit these days," said Hulsey.
Hulsey Media, Western North Carolina's leading magazine publisher, provides local publishing and digital marketing solutions through targeted, content-rich titles that include The Real Estate Book, Hendersonville Magazine, Aging Resources, Healthcare Resources, the WNC Homeowners Resource Guide, and Asheville.Apartments. Hulsey Media publications are freely distributed to consumers and can be found throughout Hendersonville, Asheville, and surrounding communities.
To learn more about Hulsey Media, visit hulseymedia.com or call 828.513.3888.