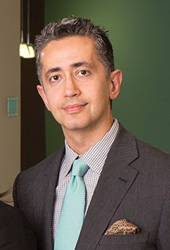 HERNDON, Va. (PRWEB) February 15, 2018
Shervin Naderi MD, FACS of The Naderi Center in Herndon, VA, has been awarded in RealSelf's Top 25 Most Loved Injectors. RealSelf is the largest and most trusted web destination for information on elective cosmetic treatments and an invaluable resource for finding the right provider in your area. The Naderi Center is pleased to learn that Dr. Shervin Naderi MD, FACS was awarded by real patient votes on RealSelf as one of the top 25 aesthetic injectors!
Dr. Naderi was nominated by actual patients. The RealSelf awards highlight the top 25 aesthetic injectors, which are determined by real patient nominations. A three-week voting period was established by RealSelf, during which more than 20,000 nominations were received for more than 2,000 aesthetic providers. RealSelf publicized this patient endorsement for Dr. Naderi, "His technique, placement, and honesty make Dr. Naderi the best at what he does. He has a trained eye and gives a thorough consultation. I wouldn't trust anyone else!"
The 2017 winners of the RealSelf Most Loved Injector Awards include only the most reliable and experienced injectors. Kelcy Heringer, VP of Marketing at RealSelf, shared, "We were blown away by the outstanding response we received from consumers across the country who were eager to nominate and share love for their favorite injectors. These awards represent the voice of the people, and we are thrilled to recognize and celebrate the individuals they chose as their most loved aesthetic injectors."
Top Injection Specialist Dr. Shervin Naderi
Dr. Naderi is one of the absolute most specialized cosmetic surgeons in the United States and the world. Dr. Naderi only performs one surgery - Rhinoplasty surgery. Dr. Naderi is an internationally known instructor for advanced techniques in Botox, Dysport and filler injections at the Naderi Center for Rhinoplasty and Cosmetic Surgery with two convenient locations in Herndon, Virginia, and Chevy Chase, Maryland. Dr. Naderi is highly recognized for his many years of successful rhinoplasty surgery and his cosmetic, nonsurgical injections. Doctors from all over the United States and the rest of the world routinely use Dr. Naderi's instructional videos to improve their own techniques. Dr. Naderi has patients who fly to him from long distances not just for Rhinoplasty but also fly into the Washington DC area several times a year for the best injections. Dr. Shervin Naderi exclusively performs one surgery, rhinoplasty, nose reshaping surgery. No other surgeon in the United States can claim this level of dedication to Rhinoplasty and Revision Rhinoplasty surgery. Dr. Naderi is recognized as an expert in the plastic surgical field and is a Board Examiner for the American Board of Facial Plastic & Reconstructive Surgery.
As an experienced, fellowship-trained, double Board Certified Facial Plastic Surgeon, Dr. Naderi uses advanced Botox and Dermal Filler injection techniques. Dr. Naderi is also a clinical instructor for Allergan and Galderma and teaches other doctors how to strategically inject Dysport, Botox, and Dermal Fillers to achieve the most outstanding results possible. His instructional videos are used for training purposes by doctors around the world.
Dr. Naderi Offers Filler to Solve Problems: Nonsurgical Facelifts
The latest and most exciting cosmetic surgery advancement is accessed using a variety of injectable fillers. Fillers are used by Dr. Naderi to address many different cosmetic problems. Fillers offer a non-surgical facelift, which smooths wrinkles, plumps cheeks, erases pitted scars, plumps the lips, fills hollowed eyes and more to create a more rested attractive look. Dr. Naderi is also known for non-surgical or 5-minute liquid rhinoplasty using Restylane to reshape the nose without surgery. How well the filler solves problems depends on the experience and knowledge of your plastic surgeon. Dr. Naderi offers his patients expertise and helps them select from a variety of the very best injectable fillers. Dr. Naderi is respected for his experience and talent, which is rejuvenating the faces of men and women in the Northern Virginia, Maryland and greater Washington, D.C. area. More importantly Dr. Naderi is known for his compassion and honesty and he is famous for talking many patient out of surgery or injections. To Request a Consulation with Dr. Naderi, call Chevy Chase, MD at 301-222-2020 or Herndon, VA at 703-481-0002.