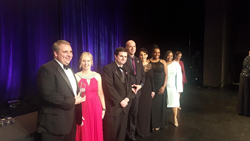 It is a tremendous honor to be a part of a company whose strategic investments in training and technology empowers their Associates, facilitates career development and allows us to deliver on our mission to provide the best customer service experience for our clients.
ATLANTA (PRWEB) February 14, 2018
U.S. Security Associates (USA) was recognized at the Training Top 125 Gala in Atlanta at the Georgia World Congress Center. This marks the 12th consecutive year the security company was named in the prestigious Training Top 125 ranking for their industry-leading training and development processes. The annual award recognizes USA as among the global elite in employer-sponsored training programs and identifies them as a leader in talent development across all industries.
USA stood out at the black-tie event as the only security provider to be recognized 12 times. The security company is the established leader and is consistently recognized for their training and talent-development programs that provide advanced training opportunities and professional enrichment paths for their Associates. David Kahn, Chief Human Resources Officer for USA, commented, "Being recognized amongst Training magazine's Top 125 year after year for over a decade demonstrates USA's commitment to our Associates and how deeply vested we are in their training and career development. This ongoing commitment to advance our Associates' skills maximizes the value we deliver to our clients by consistently providing the best trained, most qualified security professionals in the industry."
The security company's award-winning training academy has developed hundreds of proprietary courses that position their Associates for success. In addition, USA continues to invest in interactive technology to distribute, implement, and support its training and development objectives. Thomas Gasque, Vice President of Training and Leadership Development for USA who attended the gala with key members of his team to accept the award on behalf of the company, stated, "It is a tremendous honor to be a part of a company whose strategic investments in training and technology empowers their Associates, facilitates career development and allows us to deliver on our mission to provide the best customer service experience for our clients."
Training magazine's Training Top 125 ranking is based on a myriad of benchmarking statistics regarding training protocols, methodologies and investment in employer-sponsored training and development and how closely it aligns to their business goals and objectives. "The 2018 Training Top 125 winners are game changers," said Training magazine Editor-in-Chief Lorri Freifeld. "They constantly look for innovative ways to effectively deliver and measure employee training, and they are rewarded with an engaged, passionate workforce and organizational success. Congratulations to these stellar organizations for their unwavering commitment to learning and employee growth!"
ABOUT U.S. SECURITY ASSOCIATES
U.S. Security Associates (USA) is the market-leading, wholly-owned American, full-service safety and security solutions provider. With over 160 locally-responsive offices, international locations and over 50,000 dedicated professionals, they offer the most complete array of physical security, remote surveillance, and global consulting and investigations to ensure better outcomes for thousands of clients and a range of industries. Innovative applications of leading-edge, proprietary technology enable USA to rank annually among the world's best training companies, sustain the highest standards of quality, and underscore world-class customer service with unparalleled accountability. USA's rise as one of the largest innovative security solutions leaders is a natural byproduct of these differentiators and enable the company to provide the most Safe. Secure. Friendly.® environments for people, assets, and brands. For more information, visit http://www.ussecurityassociates.com.
###