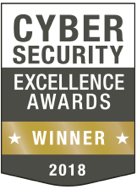 "I share this honor with my GreyCastle team – they are the reason I love walking through these doors every day. And, that connection is one of the things that makes us so successful."
TROY, N.Y. (PRWEB) February 16, 2018
GreyCastle Security (greycastlesecurity.com) CEO Reg Harnish has been named Cybersecurity Consultant of the Year in North America by the Cybersecurity Excellence Awards for the second straight year.
Additionally, Marketing Director Marissa Salzone was named 2018 Marketer of the Year for North America and Director of People and Culture Francesca LoPorto-Brandow was named 2018 Recruiter of the Year. GreyCastle Security, a leading cybersecurity risk assessment, advisory and mitigation provider headquartered in New York, also was named a finalist in the Cybersecurity Company of the Year (Between 10-48 Employees) category for the second consecutive year.
Harnish, along with all 2018 winners and nominees, received the recognition earlier this month based on the strength of his nomination and the popular vote by members of the Information Security Community.
The highly competitive independent awards competition, produced in partnership with the 350,000-member Information Security Community on LinkedIn, honors the world's best cybersecurity products, professionals and organizations that demonstrate excellence, innovation and leadership in information security.
"It's a great honor to even be mentioned as a finalist for this award by my peers, but to win it two years in a row is a testament to the hard work we put in for our clients all day, every day," said Harnish. "I share this honor with my GreyCastle team – they are the reason I love walking through these doors every day. And, that connection is one of the things that makes us so successful."
Salzone, who joined GreyCastle Security in 2016, was recognized as Marketer of the Year, in part, for her ability to elevate the firm's reputation as one of the top cybersecurity services providers in the nation. "It is so fulfilling to have a job in which my main objective is to spread awareness about the need for cybersecurity and how an effective, defensive strategy can help businesses thrive," said Salzone. "With the support of GreyCastle Security, Marketing's messaging not only is educational, but has the flexibility to be fun and entertaining. My team is allowed to take mainstream topics and equate them to cybersecurity."
Meanwhile, LoPorto-Brandow, who joined GreyCastle shortly after Salzone, in 2017, is credited with having a keen eye for talent. She has been able to secure some of cybersecurity's most sought-after professionals, despite working in an industry that has experienced an unprecedented skills gap.
"GreyCastle would not have experienced as much growth as we did in 2017 without the support of our team of existing talent, whose high standards for skills and, most importantly, cultural fit, lead our recruiting efforts," said LoPorto-Brandow. Since LoPorto-Brandow joined the team 18 months ago, GreyCastle's staff has nearly tripled in size, growing from 20 employees to nearly 60.
Under the leadership of Harnish, GreyCastle Security has experienced four consecutive years of triple-digit growth, and is currently working with organizations in nearly every state in the United States, including Fortune 5000 and Global 100 organizations. He is a frequent speaker and has presented at prominent events, including the ISACA North America CACS Conference, NYS Cyber Security Conference, the Rochester Security Summit, Security Education Conference Toronto (SecTor) and Symantec Vision.
Additionally, Harnish is a fellow of the National Cybersecurity Institute, a cybersecurity educational institution located in Washington, DC. He serves on numerous security association boards and is currently an adviser to several educational institutions focused on cybersecurity.
About GreyCastle Security
GreyCastle Security is the industry's leading provider of cybersecurity risk assessment, advisory and mitigation services. The company was established to help organizations establish effective cybersecurity programs, minimize the impact of security incidents and simplify compliance. GreyCastle Security has clients throughout North America, specializing in cybersecurity for healthcare, higher education, financial services, technology and critical infrastructure.
GreyCastle Security's revolutionary approach to service delivery completely eliminates an organization's need to recruit and retain new cybersecurity personnel. Our award-winning cybersecurity programs are delivered continuously and managed proactively by certified experts, including risk assessment, awareness, vulnerability assessment, penetration testing, compliance and incident response.
GreyCastle Security is a subsidiary of Assured Information Security (AIS). For additional information regarding AIS, please visit http://www.ainfosec.com.