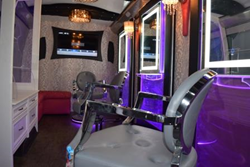 "I liked having my own makeup artist onsite in the privacy of my home. Now I can walk out the house into an exclusive environment and receive glam services on the UGoGlam Mobile Makeup Bar.
ATLANTA (PRWEB) February 16, 2018
Women who run the world need a glam squad while going from one destination to the next. Ideal for those who don't have time for mall makeovers, UGoGlam Mobile Makeup Bar comes to you wherever you are. Whether you're at your home, office, or out and about, this mobile glam bus is available to fulfill your beauty needs. Clients can get a full glamour face or à la carte services such as lashes or eyebrows.
"I liked having my own MUA onsite in the privacy of my home. However, my dogs and family were in our space and she would sometimes forget an item or tool," says founder/owner Lenesia Cooper. "I suggested she have a glam mobile on wheels, so I can walk out the house into an exclusive environment and everything be in place for her."
UGoGlam has professional makeup artists who use leading brands like BH cosmetics, Morphe and Ben Nye, while partnering with local owned companies such as Sheer Boss cosmetics. Women of all shades and hues can have the look they desire.
UGoGlam Mobile Makeup Bar serves a range of needs and occasions including bridal parties, princess parties for your mini-me, makeup tutorial parties and solo ventures; such as, makeup brands pop up shops. During their visit, women can enjoy complimentary champagne and a state of the art audio and video system. Complete with chandeliers, LED lighting and plush seating, the aesthetically pleasing decor has a salon on wheels appeal.
UGoGlam is an offspring of the popular GoGo Party Bus. In addition to traveling to scheduled locations, it pops up at strategic spots for those who wish to drop-in for a quick makeover. With the spring and summer seasons approaching, being fab is a must. Glamour gift cards are perfect for busy women who need to get glammed up on the go. Visit UGoGlam.com for more information and to book an appointment. Stay abreast of specials by following UGoGlam on Facebook, Instagram and Twitter.
###
About GoGo Party Bus/UGoGlam Mobile Makeup Bar
GoGo Party Bus is a family owned company combining premier entertainment and transportation services for all occasions. Launched in 2011, it features a range of party and limo buses, seating anywhere from 16-22 passengers. The UGoGlam mobile makeup bar enhances the entertainment experience. Certified and professional makeup artists give each woman the look she desires
Contact:
info(at)ugoglam(dot)com
404-263-3150