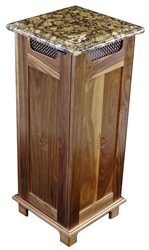 Clean Air. Pure and Simple.
Austin, TX (PRWEB) February 16, 2018
After months of development, prototyping and beta testing, Austin, Texas- based Room Air Purifier company "Austin Air Box" delivers their first units right on time to open the month of February.
"There are so many people to thank for this product launch I'm not sure I can thank them all on one page," said Tim Self, founder of Austin AirBox.
"Chris Baker was the guy in the beginning who built the models and the prototypes that brought the final product into focus. We did so many fan and filter tests, I thought we going to wear out our anemometers.
"And we did it all in his garage. However, ultimately it was the effort of the entire team, including our component partners that made on time delivery possible."
"When you're selling a high-end product to a discerning client base, you have to deliver on time. As an online retailer, we will live or die by our reviews. We announced in November that we would be shipping our first orders beginning of February and today, we were busy shipping orders."
Driven by the year-round allergy season and especially the winter Cedar season, Austin AirBox was designed to process high volumes of air for whole house air purification.
What began as an industrial unit for home and office application, Austin AirBox soon evolved into a beautiful hand-crafted cabinet that houses an industrial grade air purifying unit.
"This is Austin, Texas" says Baker, the creative guy behind the cabinet component.
"Austenite's aren't going to put "industrial' in their homes no matter how well it works. You have to give them something that's creative, beautiful and works great."
Along the creative lines, Austin AirBox sells a line of beautiful granite and marble tops to enhance the optical appeal of the AirBox.
The company has named them BoxTops.
Another interesting aspect of Austin AirBox is the majority of materials and components for the AirBox are made in America.
Exceptions include the fans which are designed and built in Germany, the sugatsune hinges and latches are designed and built in Japan and the motor controllers are designed and built in Canada.
"The AirBox comes with a Lifetime Warranty," added Austin AirBox production manager Wade Moore.
"As part of our effort to assure our Product will last a lifetime, we sourced the absolute highest quality components available. Not just good enough components, the absolute best components."
To learn more about the Austin AirBox or how you can buy one, visit their site: austinairbox.com.
Additional questions or media requests are encouraged to email info(at)austinairbox(dot)com or call 512.968.5496 for additional information.
Go Texan!