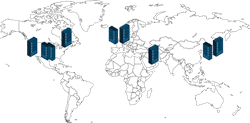 We invest heavily in our platform and will continue enhancing and expanding our global infrastructure to support our worldwide growth.
AUSTIN, Texas (PRWEB) February 20, 2018
Eagle Eye Networks today announced it has completed an eighteen-month globalization project to meet the needs of key global customers. The initiative included:
1) Adding data centers globally to provide wider regional coverage
2) Multi-lingual translations of the Eagle Eye user interface, Eagle Eye Reseller Dashboard, and marketing website
3) Eagle Eye University expansion to Europe and additional language support
4) Enhanced customer support resources including localization and increased hours of operation
Eagle Eye's multi-national customers want a standardized video surveillance solution to streamline operations across their global locations. They need localized language and local data centers for employee productivity and to comply with video surveillance regulations. The Eagle Eye Cloud Security Camera VMS now provides a localized user experience in a global environment.
Eagle Eye's Globalization Project included:
DATA CENTERS: Eagle Eye added data centers in London and Dubai for anticipated growth from Eagle Eye's channel expansion in Europe and the Middle East. Eagle Eye also dramatically expanded its Montreal and Amsterdam facilities due to increased customer demand. Customers have the flexibility of choosing to store video in any of our data centers worldwide. With the expansion of the Eagle Eye Data Centers across the globe, it is easy for companies to adhere to country-specific video storage requirements. Eagle Eye has plans to further expand its data centers throughout 2018.
EAGLE EYE USER EXPERIENCE: The Eagle Eye user interface has been localized into seven different languages. Language may be set per user and can be changed under a user's profile. All notifications, emails, and alerts are sent in the user's language preference. Global staff can now fully utilize video in their native language thereby improving operational efficiencies.
EAGLE EYE RESELLER DASHBOARD: The Eagle Eye Reseller Dashboard is localized into seven different languages, including Spanish, Japanese, German, Dutch, French, and French Canadian. Using this dashboard, resellers can control, configure, monitor, and receive alerts for their customers in the Eagle Eye Security Camera VMS in the language(s) of their choice. Channel partners across the world will benefit from the operational improvements this new functionality provides.
MARKETING WEBSITE: The Eagle Eye Networks website is available in seven languages, including Spanish, Japanese, German, Dutch, and French. Providing localized content allows website visitors from around the world to more effectively interact with the Eagle Eye website.
EAGLE EYE UNIVERSITY: Eagle Eye Networks expanded Eagle Eye University to Europe. Eagle Eye University includes both in-person training and online courses. Eagle Eye University is now available in English, Dutch, and Spanish due to channel partner demand. Authorized Eagle Eye Networks Partners can sign up for in-person or online training on the Eagle Eye website at http://www.EagleEyeNetworks.com/training.
CUSTOMER SUPPORT: Eagle Eye Networks increased its hours of operation and expanded support into several new languages. Eagle Eye customer support is available twenty-four hours a day, five days a week, in English, Dutch, Spanish and Japanese. Increased hours of operation and localized support provides Eagle Eye customers quicker resolution, and an enhanced customer experience.
"I founded Eagle Eye Networks as a cloud company because I foresaw a shift from on-site to cloud video surveillance," said Dean Drako, Founder and CEO of Eagle Eye Networks. "We invest heavily in our platform and will continue enhancing and expanding our global infrastructure to support our worldwide growth."
This push toward globalization is a key part of Eagle Eye's mission to meet customer needs and delivering added value to its resellers and customers.
To learn more about Eagle Eye Networks, visit http://www.EagleEyeNetworks.com or contact +1-512-473-0500 or +316 46 27 32 51.
PRESS CONTACTS
NORTH AMERICA
Deborah Demarchi
ddemarchi(at)eagleeyenetworks.com
+1-512-473-0500
EUROPE
Xander Van Baarsen
xvanbaarsen(at)eagleeyenetworks.com
+316 46 27 32 51
ABOUT EAGLE EYE NETWORKS
Founded in 2012, Eagle Eye Networks, Inc., ('Eagle Eye') is the leading global provider of cloud-based video surveillance solutions addressing the needs of businesses, alarm companies, security integrators, and individuals. Eagle Eye's 100% cloud managed solutions provides cloud and on-premise recording, bank level security and encryption, and broad analog and digital camera support - all accessed via the web or mobile applications. Businesses of all sizes and types utilize Eagle Eye solutions for operational optimization and security. All Eagle Eye products benefit from Eagle Eye's developer friendly RESTful API platform and Big Data Video Framework ™, which allow for indexing, search, retrieval, and analysis of live and archived video. Eagle Eye's open Video API has been widely adopted for integration in alarm monitoring, third party analytics, security dashboards, and point of sale system integrations.
Eagle Eye sells its products through authorized global resellers and installation partners. Headquartered in Austin, Texas, USA, Eagle Eye has offices in Europe and Asia. For more information, please visit http://www.EagleEyeNetworks.com or call +1-512-473-0500 or +316 46 27 32 51.
###