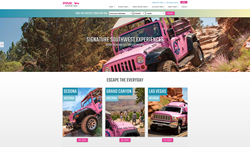 Our new site allows visitors to see tours in all our locations - Sedona, Las Vegas, or the Grand Canyon - and compare the features of up to three tours at once.
SEDONA, Ariz. (PRWEB) February 14, 2018
For years, Pink Jeep Tours has been the leader in guided tours of the American Southwest. Now, the company is excited to announce the launch of a brand new website that reflects the adventurous spirit and world-class quality Pink Jeep Tours is known for.
The new website, http://www.pinkadventuretours.com, gives visitors all the information they need to know about Pink Jeep Tours and its locations, tours, and other offerings, in one convenient site.
"Our new site is easier and more intuitive," says Tim Miller, President and CEO of Pink Jeep Tours. "It allows our visitors to see tours in all our locations — Sedona, Las Vegas, or the Grand Canyon — at a glance. They can compare the features of up to three tours at once, so they can find just the right tour for their needs."
The comparison tool is only one of the impressive new features on the improved site. Visitors can also see the "Trail Rating" for any given tour, which will tell them the type of terrain on the tour at a glance. With ratings from "Mild" to "Rugged" to "Technical," along with clear descriptions of each term, guests can make sure they know what they're signing up for when they book their next Pink adventure.
The new site also simplifies the booking experience, giving visitors the ability to scan available times for their tour, see highlights or click through for more detail. And with more information on group tour options, including corporate events and weddings, more people than ever will be able to experience the difference Pink makes.
Topping off the new site is a freshly designed logo, one that embodies the company's push towards a modern and sleek feel, while still representing their love of what they do and their lively brand.
"Pink Jeep Tours is all about moving forward — literally," says Miller. "We're about exploration and adventure, and we want to bring that experience to life for as many people as possible. Our new site has the power to make that happen, and we couldn't be more thrilled with it."
To book a Pink Jeep Tour, or learn more about tour itineraries and destinations, visit http://www.pinkadventuretours.com.
About Pink Adventure Group
Founded in 1960 and based in Sedona, Arizona, Pink Jeep Tours provides unique, unforgettable tour experiences to Sedona, Las Vegas, and the Grand Canyon, for visitors from around the world. With a fleet of over 150 cutting edge vehicles, it remains the only tour company with guide trainers certified by the National Association for Interpretation on its staff, and the only tour company to use the Smith System® of Driving by all guides.