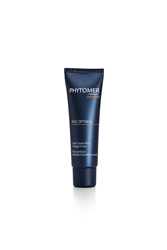 AMM Marine Sugar deposits an invisible, natural film on the skin's surface that captures sebum like a micro-sponge.
SAINT-MALO, FRANCE (PRWEB) February 16, 2018
Although men's skin is 25% thicker than women's, frequent shaving, pollution and stress can weaken the epidermis, causing premature damage and aging. AGE OPTIMAL Face and Eye Wrinkles Smoothing Cream is a powerful concentrate designed to smooth and reinvigorate men's skin, with dual action, treating the face and eye contour. PHYTOMER researchers selected four powerful marine extracts in this new formulation to reduce shine, increase oxygenation, smooth and decongest skin. Key ingredient, AMM Marine Sugar deposits an invisible, natural film on the skin's surface that captures sebum like a micro-sponge. Upon application, its ultra-refreshing sorbet texture gives skin an immediate boost, while decongesting and intensely hydrating skin, leaving a light masculine aquatic/woodsy scent.
AGE OPTIMAL Face and Eyes Wrinkle Smoothing Cream...........................50 ml, suggested retail price $86.00
Directions for use: apply morning and evening to the face, neck and eye contours on perfectly cleansed skin.
Key ingredients:

AMM Marine Sugar - produced using biotechnology in the PHYTOMER laboratories, this natural marine sugar possesses an exception purifying capacity. By limiting the secretion of sebum, it offers a long-lasting matifying effect.
Delesseria Sanguinea - draining and decongesting algae, stimulates micro-circulation to reduce signs of fatigue.
Marine Oxhylium - extract of red algae, boosts cellular vibrancy with its high mineral and oligo- element content.
Marine Criste Oil - a seaside plant, accelerates cell renewal and smooths the surface of the skin.
Clinical Results:
Shine Reduction
Immediate matte finish: 95%
Decreased Fatigue
Signs of fatigue (under eyes puffiness and dark circles) decreased: 96%
Smoothing
Smooths lines: 100%
Re-energizes
Re-energized skin and improved skin conditions: 100%
*Satisfaction test on 22 men. Twice-daily application for 28 days.
Phytomer at a glance:
With over 40 years as the leader in the marine skin care, Phytomer is now a pioneer in the field of marine biotechnology, the future of results-oriented cosmetics. This is the newest technology to create innovative, 100% natural skin care ingredients. Based in Saint-Malo, France and distributed in 70 countries worldwide, Phytomer has a reputation of leadership and expertise within the spa industry. With Phytomer meaning "plant of the sea," we utilize seawater, seaweed or seaside plants in every retail and professional product, combining science with the natural powers of the sea. We are one of the only spa brands with our own laboratory, allowing us to research and cultivate our own ingredients, develop unique cosmetic formulas, manufacture skin care products and create cutting-edge professional treatments to deliver remarkable results.