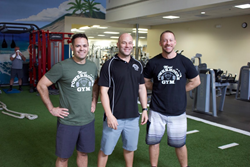 KIHEI, Hawaii (PRWEB) February 15, 2018
Maui Powerhouse Gym today announced that the health and wellness facility serving the Kihei community for the past 15 years is now officially under new ownership. The new team of owners, led by longtime Maui Powerhouse Gym manager, Logan Peitscher, looks to improve access to the gym's facilities and offerings.
The changeover from the prior owners became official January 22nd and the new owners are committed to spearheading a new era for the gym by reinvesting in the facility, expanding access to membership, and continuing to give community members a place to unlock their fitness and wellness potential.
"As members of the local community, we are thrilled to now be business owners of a mainstay in Kihei. We are invested in the success of our members getting optimal wellness benefits from our gym. Whether a longstanding member or just joining us, we take pride in being a familiar fitness hub for residents," said co-owner Logan Peitscher. "By catering to the feedback we've been receiving from members, improvements in 2018 will combine what is familiar with what is modern. I think people will be impressed by the changes, and how attractive and functional the gym will be as a whole."
Maui Powerhouse Gym's approach to the coming year will focus on lifestyle, innovation, and community. Members of all experience levels will see changes in group fitness offerings focused on increasing the availability and diversity of classes.
Joined by fellow owners, Sam Dahlkvist and Peter Shenkin, Maui Powerhouse Gym will work actively to implement more equipment, and update the exercise facilities and overall space. The gym will also be participating in the Active and Fit and Silver and Fit Programs that provides participating members with discounts, and rewards up to a free annual gym membership.
Maui Powerhouse Gym was originally launched in 2005. The 12,300 square foot gym offers a comprehensive program of exercise equipment, saunas, child-minding services and frequent exercise classes taught by high-caliber instructors. It is located at 1279 S. Kihei Road, Suite 118 in Kihei, HI 96753. The gym is near the epicenter of Kihei's downtown Azeka Shopping Center, where more than 50 shops, restaurants and services reside.
To learn more about Maui Powerhouse Gym, go to: http://www.mauipowerhousegym.com.
Follow us on Facebook and Instagram.
About Maui PowerHouse Gym
The Maui PowerHouse Gym is focused on fostering the growth of health and wellness for Kihei residents. For members, Maui Powerhouse Gym offers group fitness classes, one-on-one training, group training programs for all levels, indoor cycling and more. Maui Powerhouse Gym's approach is to improve the lives of their members by making wellness accessible to the community. For more information visit http://www.mauipowerhousegym.com.
Contact:
Sarah Elder
sarah(at)b2beatcommunications(dot)com