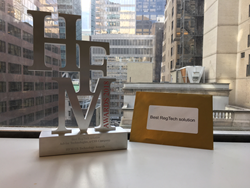 Advise Technologies strives to lead the regulatory intelligence space and we're thrilled to win recognition for our platforms
NEW YORK (PRWEB) February 15, 2018
Advise Technologies, a CSS company, announced today that it won "Best RegTech Solution" at the 2018 HFM US Hedge Fund Technology Awards.
"Advise Technologies strives to lead the regulatory intelligence space and we're thrilled to win recognition for our platforms," said Advise's Chief Services Officer, Adam Capon. "We're excited to continue offering best-in-class software and services to the investment management community."
The win comes after major enhancements were rolled out on all four Advise solutions over the last year:

All solutions are backed by the Advise's Best Practices team, a group of regulatory attorneys, fund accountants, and data specialists that are available to answer client questions and provide analysis on the latest regulatory changes.
-----
About Advise
Advise Technologies, a CSS company, is the premier provider of regulatory intelligence software and services to the global investment management community. Led by fund professionals and focused on our service-first approach, Advise has helped over 1,000 managers meet their reporting obligations across more than 90 jurisdictions. Advise is headquartered in New York, and has offices in Amsterdam, Dublin, London, and Paris.