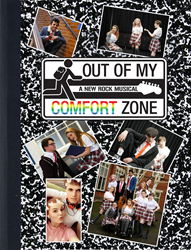 "People like avoiding conflict. They don't want to stand out too much, so they play it safe. Out of My Comfort Zone challenges this concept, promoting self-confidence and loving unashamedly." -Theater Development Fund
LONDON (PRWEB UK) 16 February 2018
In addition to being featured on the front page of Playbill.com, The Huffington Post praised the show, calling it, "A singing, dancing powerhouse punctuated by dialogue that feels true and real. The songs are completely infectious and fun, ranging in genre from rock and roll to hip hop." TheaterScene.net said, "With an empathic message, fun soundtrack, and an enthusiastic cast, Out of My Comfort Zone hopes to further a worldwide social cause."
Josh and Rachel have been best friends since primary school, but their relationship is about to change. Their classmate, The Viper, has a blog dedicated to exposing people's innermost secrets and he's just found out the whopper of them all. A new rock musical performed by a cast which includes18 teens, Out of My Comfort Zone pokes holes in school stereotypes and suggests that finding your comfort zone sometimes comes at a price.
"We were driven to write Out of My Comfort Zone as a way of making a strong statement against bullying, specifically bullying that targets any child or teen who may be perceived as gay or identify as LGBTQ," states Ivy Vale, playwright. "There is clearly a need for reality-based material for teens who want to see shows that reflect their own lives and deliver characters they can relate to." Out of My Comfort Zone is currently in post-production as an independent feature film.
Directed by Gemma Eves, the cast of 20 features Bailey O'Hara, Lauren Condon, Sam Wilkins, Molly Polden, Harry Polden, Maia McCarthy, Matty Noble, Isadora Hale Brown, Jack Drummond-Joy, Callum Balmforth, Emily Mark, Rosie Polden, Sarah McNicholas, Krisdeana Reed, Louis Rice. Ensemble: Sophie Gardner, Vivian Maci, Jade Laudrum. Maya Goodwin, David Alexander.
Out of My Comfort Zone plays for 3 performances from March 1-3, 2018. Performances are Thursday-Saturday at 8:00pm. March 2 is a signed performance. The runtime is 90 minutes with one 15-minute intermission.
Redbridge Drama Centre
Churchfields, South Woodford, London E18 2RB
Box Office: 0208 708 8803
Tickets are £10, £8.50, £7.50 and available through:
http://redbridgedramacentre.co.uk/RedbridgeDramaCentre.dll/WhatsOn?Programme=433644
Out of My Comfort Zone is presented by Redbridge Musical Theatre Company.
Producers: The Redbridge Drama Centre
Director: Gemma Eves
Musical Director: Jamie Bell
Choreographer: Owen Smith
Production Design: Ben Ward
Costume Designer: Molly Polden
Media Contact: Jason Grant
Gemma Eves (Director) began her foundation training in Musical Theatre at Mountview Academy in London, before continuing her studies in Acting at the American Academy of Dramatic Arts in New York. She has been directing youth shows for over 10 years in London and New York. Gemma has two branches of the theatre school TheatreTrain. She is also head of Musical Theatre at the Redbridge Drama Centre. Most recently Gemma has been involved with the International Theatre Exchange, directing youth Shakespeare productions of Macbeth, A Midsummer Night's Dream and Twelfth Night in Switzerland, Germany and Italy. Recent projects include; Children's Director on Ishq – The Musical, at Sadlers Wells. Gemma is looking forward to directing this fabulous cast in Out of My Comfort Zone.
Jamie Bell (Musical Director) trained in both education and music at the University of Wales. Whilst in Cardiff Jamie toured Europe as a bass player in several jazz bands, choirs and performed with Welsh National Opera. Jamie started working as a musical director in 2004 for a production of Moby Dick and since then has been musical director for several companies, MD'ing many shows including Beauty and the Beast, Les Miserables, Rent and 42nd Street. Jamie's real passion has always been working with youth groups and encouraging young performers and so Jamie is very excited to be the Musical Director for Out of My Comfort Zone at Redbridge Drama Centre.
Owen Smith (Choreographer) trained with the Palmerstone Stage School and was a syllabus performer for the Royal Ballet School. As a performer his theatre credits include: Annie (UK National Tour), A Chorus Line, 'Dean' in Boogie Nights, Brad – A Rocky Horror Picture Show, and 10 years in Seasonal Pantomime. As a Creative, Owen's Choreography and Directing Credits include; The Magic of Eurovision - P&O Cruises, Resident Director for the Summer Season in the Isle of Man working with 'Sam Barks', Trash, The Musical (Belgium), The Fall - a new Ballet, RDC, Santa's New Sleigh, The Arts Theatre London, and Ishq -The Musical, Saddlers Wells Theatre. Owen is excited to be working on Out of My Comfort Zone with a great cast and creative team.
Ben Ward (Production Designer) Ben has been the resident Production Designer at the Redbridge Drama Centre for the past 15 years, working with touring and in-house productions, including the RDC annual Christmas shows; The Pied Piper, Cinderella, Peter Pan, Aladdin, amongst others. Touring Theatre Credits include: Romeo and Juliet, Twelfth Night (English Shakespeare Company), Unlocking the Pyramid, Macbeth, Mata Hari (Vital Stages Theatre Company), Before The City, Let's Keep Talking, A Strange Kind of Difference, (Redbridge Drama Centre). Ben is thrilled to be part of the Out Of My Comfort Zone Creative Team.
Ivy Vale (Book, Lyrics, Music) is a multi-award nominated writer, musician, artist and native New Yorker. She wrote the book, lyrics and co-wrote the music (with husband, Rick Reil) for Out Of My Comfort Zone, the first anti-bullying, LGBTQ-themed teen rock musical. Out Of My Comfort Zone had two successful off-Broadway runs, which were co-directed by Vale and featured in Playbill. Ms. Vale's work appears in One Minute Plays: A Practical Guide to Tiny Theater (Routledge, 2017). Her plays have been selected and produced by GI60: The World's First International 60 Second Playwriting Festival, in New York and the UK. She is the primary singer/songwriter and founding member of The Wyld Olde Souls, a female-fronted psychedelic folk band, who have been nominated for multiple music awards by The Hollywood Music in Media Awards and The Indie Music Channel Awards, including a nomination for Best Album. Ms. Vale's songs have achieved finalist status in the UK Songwriting Competition. The song 'Give it to You' (written by Vale/Reil) is in the documentary Who Shot Rock & Roll: The Film which premiered at The TriBeCa Film Festival. In addition, the song 'Anything' (written by Vale) was featured as the theme song for the UK play Marilyn (about Marilyn Monroe, written by Chris Savery) which premiered at London's Barbican and in New York in The Midtown International Festival. Ivy grew up watching her father, Michael Vale, on Broadway, in films and on TV. She is a Founder and Creative Director of My Generation Productions, a company dedicated to creating and producing innovative work to raise awareness and mobilize social action through music, drama and comedy. She completed improvision training with The Upright Citizen's Brigade in New York and is a graduate of The School of Visual Arts (BFA).
Rick Reil (Music) is an accomplished singer, songwriter, multi-instrumentalist, producer and recording engineer. He is a member of The Grip Weeds, a popular psychedelic pop-rock band which has released 8 full-length CDs, toured the US and Europe, and garnered significant radio/internet airplay, including songs on Little Steven's Underground Garage and SiriusXM. The Grip Weeds' song "What's in Your Mind" (written by Rick) was licensed by CBS Television to promote its critically acclaimed series Criminal Minds. He is producer/founding member of psychedelic folk rock group The Wyld Olde Souls. He is co-owner of House of Vibes recording studio in Highland Park, NJ, whose client list includes Mark Lindsay (Paul Revere and the Raiders), The Smithereens, John Hawken (The Strawbs), Graham Maby (Joe Jackson, Marshall Crenshaw), and The Dough Boys. Rick also runs a satellite recording studio, The House of Rock Opera, in New York City. He is currently Musical Director and Mentor to young students at Individual University. He is a Founder and Music Director of My Generation Productions, a new company dedicated to creating and producing innovative work to raise awareness and mobilize social action through music, drama and comedy. Rick graduated from Seton Hall University School of Law, Rutgers.
Redbridge Drama Centre is a professional fringe theatre, founded in 1969, currently showcasing in-house and touring productions. RDC is a creative space, with classes inspiring children & adults in theatre, arts, and dance.