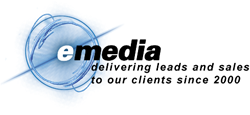 "We are delighted to have eMedia Technologies, Inc. as a Digital Marketer Certified Partner" said Ryan Deiss, CEO of Digital Marketer. "With skilled and dedicated partners like eMedia, we are confident that we'll achieve our goal of doubling the size of 10,000 businesses ahead of schedule."
FORT WAYNE, Ind. (PRWEB) February 20, 2018
eMedia Technologies, Inc., announced today that they have joined forces with Austin, TX based company Digital Marketer and committed to doubling the size of 10,000 small businesses by 2020 as a Digital Marketer Certified Partner.
Lee Pomerantz, Pres/CEO of eMedia, stated: "We chose to partner with Digital Marketer because they are truly the industry leader in providing the absolute best research, strategies, tactics, and training for what's working today in Digital Marketing. Their content is constantly refreshed to keep up with industry best practices and evolving changes in technology and the marketplace. This, along with their new Digital Marketer HQ Training and Certification platform, means eMedia can deliver not only real, measurable business growth results to our clients, but also the best ongoing digital marketing training and certification."
"We are delighted to have eMedia Technologies, Inc. as a Digital Marketer Certified Partner," said Ryan Deiss, CEO of Digital Marketer. "With skilled and dedicated partners like eMedia, we are confident that we'll achieve our goal of doubling the size of 10,000 businesses ahead of schedule."
As a Digital Marketer Certified Partner eMedia has been trained, tested and certified on Digital Marketer's globally praised Customer Value Optimization process. This coupled with the businesses already impressive list of specialties enables eMedia to lower customer acquisition costs while increasing immediate customer value for their clients.
"I've seen firsthand how the 'CVO' process can double a business almost overnight and we're excited that members of the eMedia team are trained and certified to deliver this amazing process to new and existing clients," said Lee Pomerantz, Pres/CEO of eMedia.
For more on eMedia Technologies, Inc., or to find out how they can help your business grow using the Customer Value Optimization process, visit: http://www.eMediaTech.com
About eMedia Technologies, Inc.:
eMedia is a leading provider of sales and marketing consulting services focused on increasing leads and top line sales performance.
Business owners and chief sales and marketing officers come to us to increase lead generation and sales.
Our clients typically face one or more of the following issues:

Frustrated that their current marketing actions don't generate enough sales leads to achieve their growth objectives
Uncertain about what sales and marketing activities they should and should not invest in
Upset their current marketing resources can't get the job done
Disappointed in the performance of their sales team
Time challenged because they have to deal with numerous sales and marketing firms
We provide sales and marketing services that span the spectrum from marketing to lead generation to turning leads into actual sales. We provide a full range of digital marketing services including but not limited to inbound marketing, search engine marketing, social media campaigns, online stores and websites, and fractional marketing management services – truly a one-stop shop for all things Digital Marketing.
About Digital Marketer:
Digital Marketer is a marketing research and training company based in Austin, TX with a mission of doubling the size of 10,000 small businesses by the end of 2020. With over 400,000 subscribers from across the globe, brands and businesses, both large and small, rely on Digital Marketer to stay on the leading edge of what's actually working in modern marketing and business growth.