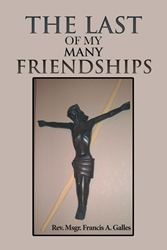 PRESTON, Minn. (PRWEB) February 19, 2018
A retired Catholic priest and author has released an autobiography that chronicles his spiritual journey as part of the priesthood, the many friendships he acquired and was inspired and impacted by and the deep relationship he formed with God over the course of his 90-year life.
In "The Last of My Many Friendships, Rev. Msgr. Francis A. Galles presents an inspiring account of his work and fellowship as well as the beauty he found in God's movements during the unfolding of his life. Reflecting upon his more than 60 years spent as a Catholic priest, Msgr. Galles offers readers an intimate and thoughtful examination of the gift of existence.
"I wrote this book because I find tremendous spiritual and psychological value in gathering up both the personal and shared events and experiences of one's individual journey," Msgr. Galles said. "This autobiography has served as a reminder to me of how graciously and mysteriously God works in the course of a human life and how blessed I have been in the relationships I have enjoyed during my 90 years."
From his earliest memories to present day, Msgr. Galles delivers his life story through the lens of the love and camaraderie he found within friendships that, ultimately, shaped him into the person he is today and bolstered his walk with the Lord.
"The Last of My Many Friendships"
By Rev. Msgr. Francis A. Galles
ISBN: 978-1-5434-4469-8 (hardback); 978-1-5434-4470-4 (paperback); 978-1-5434-4652-4 (electronic)
Available at the Xlibris Online Bookstore, Barnes & Noble and Amazon
About the author
Rev. Msgr. Francis A. Galles was born in Iona, Minn., in 1927. Msgr. Galles completed his studies at Loras College in Dubuque, Iowa, the Catholic University in Washington D.C. and the Gregorian University in Rome and was ordained to the priesthood at the Basilica of St. John Lateran in Rome in 1952. He currently resides in Preston, Minn.
Review Copies & Interview Requests:
LAVIDGE – Phoenix
480-648-7557
dgrobmeier@lavidge.com
General Inquiries:
LAVIDGE – Phoenix
480-998-2600 x 584
mdriver@lavidge.com