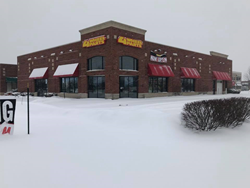 As part of our migration into the Midwest, we're proud to say that 4 Wheel Parts is here in South Elgin.
COMPTON, Calif. (PRWEB) February 15, 2018
4 Wheel Parts, the global leader in off-road performance product sales and installation, is bringing the nation's largest selection of aftermarket parts and accessories for trucks and Jeeps to South Elgin, Illinois with its grand opening celebration this Saturday, February 17. The family-friendly event, located at 474 Redington Drive will feature exclusive grand opening discounts, installation specials along with multiple promotions and giveaways to coincide with the launch of 4 Wheel Parts' newest state-of the-art showroom and service center.
"As part of our migration into the Midwest, we're proud to say that 4 Wheel Parts is here in South Elgin," said Store Manager, Mike Schultheis "We have been working hard to transform this store into a premier off-road retail shopping experience and it's time we officially open the doors and welcome the community inside."
The grand opening event provides attendees their first opportunity to experience the brand-new, interactive showroom featuring an array of products while engaging with the team of off-road performance experts onsite. Numerous industry-leading manufacturers such as Pro Comp, Rubicon Express, Poison Spyder, G2 Axle and Gear, Alpine and Toyo Tires will be on-site displaying and demonstrating their latest products. The event will also feature a live DJ and entertainment for the whole family. Complementary lunch will be provided by the gourmet Grilled Cheese Food Truck, "Food for your Soul." Off-road enthusiasts from throughout the region are expected to join in the celebration while 4 Wheel Parts Gift Cards, prizes from Pro Comp, Smittybilt, Traxxas, and Hi-Lift will be up for grabs along with a $1000 4 Wheel Parts shopping spree and much more.
ASE-certified technicians will be on-site providing installation discounts on select products purchased in addition to exclusive one-day specials.
South Elgin will be the first of two 4 Wheel Parts retail stores to open in the Chicago area with the second, in Naperville, projected to open in mid-March 2018.
"Our brand new Distribution Center in Carlisle, Pennsylvania now allows us to provide expedited delivery of thousands of products from hundreds of vendors whether customers choose to shop online or come into the store and take advantage of our installation services," continued Schultheis. "From what we have experienced through our national catalog and e-commerce sales from this area, there is a huge truck and Jeep enthusiast community here that is going to have a great time shopping in our brand new showroom. We're looking forward to them joining us at our event on Saturday."
What: 4 Wheel Parts Grand Opening Celebration
When: Saturday, February 17 - 9 a.m. - 5 p.m.
Location: 474 Redington Drive, South Elgin IL 60177
Complimentary Admission
About 4 Wheel Parts
4 Wheel Parts is the global leader in truck, Jeep, SUV and off-road performance products. With 87 locations across the U.S. and Canada and growing, 4 Wheel Parts Service Centers install all the products they sell. Maintaining the nation's largest inventory of off-road tires, wheels, suspension products and accessories, 4 Wheel Parts serves customers across the country and around the globe. Life is Better Off-Road. Visit them at 4wheelparts.com or call toll-free 877-474-4821