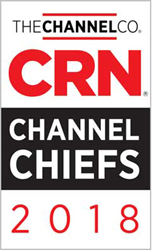 "The executives on CRN's 2018 Channel Chiefs list stand out for their exceptional leadership, vision and commitment to the channel."
IRVINE, Calif. (PRWEB) February 16, 2018
RapidScale, a leader in managed cloud services, announced today that CRN®, a brand of The Channel Company, has named EVP, Sales & Marketing Bob Buchanan to its prestigious list of 2018 Channel Chiefs. The award marks Bob's second consecutive recognition. This executive annual lineup recognizes top leaders in the IT channel who excel at driving growth and revenue in their organizations through channel partners.
Channel Chief honorees are selected by CRN's editorial staff on the basis of their professional achievements, standing in the industry, dedication to the channel partner community and strategies for driving future growth and innovation. Each of the 2018 Channel Chiefs has demonstrated loyalty and ongoing support for the IT channel by consistently promoting, defending and executing outstanding channel partner programs.
"I am honored to be recognized by CRN," said Bob. "My inclusion is a direct reflection of RapidScale's current growth trajectory, which has been fueled by our talented team of employees and partners. We're positioning the company to be the premier managed cloud provider in the channel and I'm thrilled to a part of it."
"The executives on CRN's 2018 Channel Chiefs list stand out for their exceptional leadership, vision and commitment to the channel," said Robert Faletra, Executive Chairman of The Channel Company. "These individuals deserve special recognition for their development and support of robust partner programs, innovative business strategy and significant contribution to the overall health of a vigorously growing channel. We applaud each Channel Chief's impressive record of accomplishments and look forward to their future successes."
The 2018 CRN Channel Chiefs list, including the 50 Most Influential Channel Chiefs, is featured online at http://www.crn.com/channelchiefs and will appear in the February 2018 issue of CRN.
Follow The Channel Company: Twitter, LinkedIn and Facebook
Follow RapidScale: Twitter, Facebook, LinkedIn and YouTube
About RapidScale
RapidScale, a managed cloud services provider, delivers world-class, secure, and reliable cloud computing solutions to companies of all sizes across the globe. Its state-of-the-art managed CloudDesktop platform and market-leading cloud solutions are the reasons why RapidScale is the provider of choice for leading MSOs, VARs, MSPs, Carriers and Master Agents throughout the United States. RapidScale is not only delivering a service but also innovating advanced solutions and applications for the cloud computing space. RapidScale's innovative solutions include CloudServer, CloudDesktop, CloudOffice,CloudMail, CloudRecovery, CloudApps, and more. For more information on RapidScale, visit http://www.rapidscale.net.
About the Channel Company
The Channel Company enables breakthrough IT channel performance with our dominant media, engaging events, expert consulting and education, and innovative marketing services and platforms. As the channel catalyst, we connect and empower technology suppliers, solution providers and end users. Backed by more than 30 years of unequaled channel experience, we draw from our deep knowledge to envision innovative new solutions for ever-evolving challenges in the technology marketplace. http://www.thechannelco.com
CRN is a registered trademark of The Channel Company, LLC. All rights reserved