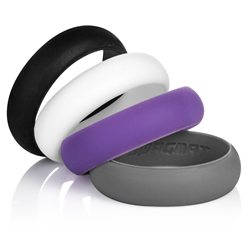 …when she still wears the silicon ring … when she heads to the gym, she'll always remember our magical, and life-changing trip…
(PRWEB) February 19, 2018
When you suddenly decide on a spontaneous marriage proposal to your partner, it's not everyone who has a ring to hand.
But when you're the CEO of a silicone ring company – and your girlfriend just happens to be wearing one of your products - then everything magically falls into place.
Peter Wilcox, owner of Swagmat Ltd, was on holiday in Nong Khai in Thailand with his girlfriend when the momentous occasion took place. Originally planning to propose later in the year, when the loving couple were due to visit the Taj Mahal, things took an abrupt turn. Wilcox, inspired by memories of a 'spiritual moment' in the same region more than 17-years ago, decided to seize this perfect opportunity and pop the question in a place that has had a special place in his heart for all these years.
Having decided on an entirely spontaneous proposal, Wilcox did experience a split-second of panic, wondering if he should go ahead and pop the question without an engagement ring. However, a plan soon began to form when he realized that his girlfriend was actually wearing one of his own silicone rings on her right hand – part of a pack of Swagmat rings he had given her not long after they met.
So having held hands with his girlfriend on an idyllic evening walk, and slyly slipping the ring from her finger; Wilcox, on bended knee, popped the all-important question. And of course, she said yes!
Having designed silicone wedding bands primarily for use in place of a more formal ring when traveling or at the gym, or as an informal fashion accessory, Wilcox didn't for one moment think that his own product would form part of one of the most joyous occasions in his life.
Speaking about his sudden epiphany, he said "I was really excited about proposing to my girlfriend at the Taj Mahal, however when re-visiting Nong Khai – the place I 'found' myself in my youth - I absolutely knew that I couldn't wait any longer, this was the right time. It was just such a perfect moment. And with one of my silicone rings? Well, that was all down to good luck! I have promised my fiancée that I'll replace it with a diamond ring, but I am sure when she still wears the silicon ring in place of it when she heads to the gym, she'll always remember our magical, and life-changing trip to Thailand.'
Since the proposal, Wilcox has been inspired to expand the range of silicone rings that are available to his Swagmat customers. While it was by pure chance that he proposed with a silicone ring, he hopes others who have heard about his special moment, may see the romantic potential in them, and purposefully choose them for a unique proposal. To learn more visit Amazon and check out the exact silicone ring used in the proposal or this popular silicone wedding ring for men.
For more information about Swagmat Silicone rings, please visit http://www.swagmat.com