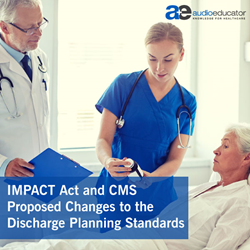 Hospitals and related facilities must begin preparing—now—to comply with CMS's proposed changes.
DURHAM, N.C. (PRWEB) February 15, 2018
AudioEducator, a division of audio conference and corporate education leader ProEdTech, will host the live webinar "IMPACT Act and CMS Proposed Changes to the Discharge Planning Standards" with industry veteran Sue Dill Calloway, RN, MSN, JD on Tuesday, March 6, 2018 at 1:00 pm ET. The coming changes to discharge planning standards aren't just for hospitals.
For instance, CMS will require medication reconciliation upon discharge and information on side effects of new medication. This will affect home health agencies, inpatient rehab facilities, SNFs, and LTC facilities. Discharge instructions and discharge summaries will be required to be sent to physician within 48 hours.
Here's another example: CMS will soon require five elements to be included in all discharge instructions.
What does all this mean for you? More paperwork and better planning! Hospitals and related facilities must begin preparing—now—to comply with CMS's proposed changes. For one thing, you'll need to rewrite your transfer form and discharge evaluation form to collect the new required assessment elements.
In this session, regulatory compliance expert Sue Dill Calloway, RN, MSN, JD will take you through the details and effects of CMS's proposed changes to discharge planning standards—as well as discuss another critical federal rule change: the new IMPACT Act.
All healthcare professionals—from discharge planners, transitional care nurses, and chief nursing officers to social workers and compliance officers—will benefit from this session. You will learn to:

Understand the 5 new elements CMS will require in the discharge summary
Complete a compliant transfer form
Track the discharge summary and instructions, which will need to be sent to the primary care practitioner within 48 hours of discharge
Measure 5 IMPACT Act-required elements, including functional status and chances, skin integrity and changes, and medication reconciliation
For more information and to register, visit: https://www.audioeducator.com/hospitals-and-health-systems/cms-discharge-planning-standards-and-the-impact-act-proposed-changes.html
About ProEdTech
ProEdTech is a leading source of knowledge and training for professionals in over 15 industries, serving individuals, businesses and their employees around the globe. It offers webinars, online conferences, seminars, boot camps, books, DVDs, white papers, industry reports and other learning tools from industry experts and insiders who provide a fresh perspective on key issues, trends and regulations in order to simplify governance, risk and compliance (GRC) for enterprises and industry professionals.
ProEdTech's AudioEducator webinars offer updates, regulatory knowledge and information on the latest news in various medical specialties, as well as coding and billing updates, and analysis of regulations that affect ambulatory surgical centers, home health, long term care and hospice facilities, hospitals and healthcare systems, health insurers and physician practices. Webinars are also offered through AudioSolutionz in the technology, human resources, construction and housing, ICT and telecom, manufacturing, consumer packaged goods and retail, safety and security, transportation, energy and environment, education, trade, and chemicals industries. ProEdTech's Eli Financial platform offers tax and banking professionals, focusing on providing high-quality online training products customized for U.S. lenders and tax practitioners that include the latest updates from the IRS, CFPB and other regulatory authorities. Lawyers across the United States depend on Eli CLE for top quality online continuing legal education (CLE) programs, which can be completed for MCLE credits.
ProEdTech regularly provides professionals the opportunity to get answers to their most complex questions directly from experts, without having to attend costly live conferences. To learn more, visit: http://proedtech.com/.