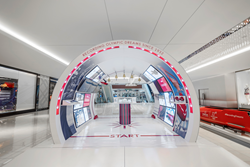 ROCHESTER, NY (PRWEB) February 19, 2018
Mach 2 Management, a full-service experiential event management agency, located near Rochester, NY has recently completed an exhibit to coincide with the 2018 Olympic Games in Pyeongchang, South Korea for Omega Watches. Omega is the Official Timekeeper of the Winter Games and Mach 2 worked to create an interactive and informative exhibit to assist in telling Omega's storied history with the Olympic Games and showcase historic timepieces as well as some of their newer watches designed specifically for the Winter Olympics.
Apogee Exhibits and Environments was selected to engineer and build the custom exhibit for their partner, Mach 2 Management, Inc. "We were very excited to be a resource for Mach 2 and Omega in putting this fun project together, states Apogee CEO Mark Taylor. "It was an aggressive build schedule but our talented Design Engineer and fabrication team worked tirelessly to get this constructed for Mach 2 and Omega to coincide with the opening of the Olympics."
Logan Gillespie, Mach 2 Management Senior Program Manager, and project lead added, "Over the years, we've worked on multiple unique projects for Omega, and this one has been no different. Taking actual Olympic artifacts from Omega's museum and meshing them with a modern exhibition build, traveling the country for overnight builds in high-end venues around the country is not an easy task, especially with the timeline we were given. Without the resources and overtime work the Apogee Team was able to provide, I am not sure if we would have met our activation deadline to coincide with the 2018 Pyeongchang Winter Olympics Openings Ceremony.
The exhibit will travel about the United States under supervision and management of Mach 2 Management staff, to showcase both Omega's history as timekeeper of the Olympic Games as well as their exquisite collection of watches.
Celebrating 26 years in business, Apogee is a full-service exhibit and event marketing firm designed to help drive brand performance by making positive, lasting impressions. Apogee's scope of work includes exhibit design, fabrication services, management services, Interactive technology and many other brand strengthening products and services. For more information go to http://www.apogeeExhibits.com
Mach 2 Management, Inc. is a full-service experiential event management agency that has built its reputation on superior customer service while operating in solidarity with the client's marketing department. It's a never-ending process that leverages customer thoughts, ideas, and perspectives. As a result, each Mach 2 employee becomes an advocate for customer needs. Our team delivers on everything from total campaign conceptualization and execution down to the smallest of details, empowering our clients to achieve their objectives through live experiences, engagement, and brand content. For more information go to: http://www.mach2management.com