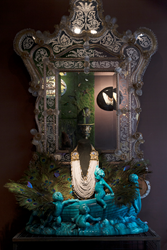 "Having the opportunity to work with Toma and her team to create the ambiance for the TCH Collection launch was a no-brainer for us. It brought a new opportunity to show what we do best: create style defining interiors." - Mellissa Mittag, Fromental
Paris, France (PRWEB) February 16, 2018
Mellissa E. Mittag, Fromental's North American Sales and Marketing Director, collaborated with TCH Collection Founder and Jewelry Designer Toma Clark Haines and Art and Brand Director Chiara Zanella as well as gallery owner Laurence Vauclair to design a setting that inspires lush ambiance to launch the jewelry collection. Galerie Vauclair's antique rattan and majolica "barbotine" pieces are important elements for the installation, plus a special limited edition of Diva Line pillows by Dutch artist and designer Mariska Meijers, which create an exotic setting to debut the TCH Collections. Says Mittag,
"Wallcovering by Fromental is not meant to stand on its own. Rather, it is a layer used to create an ambiance, to envelop the room in luxury and create a mood. Having the opportunity to work with Toma and her team to create the ambiance for the TCH Collection launch was a no-brainer for us. It brought a new opportunity to show what we do best: create style defining interiors. Toma's jewelry is an exuberant and luxurious collection of pieces that begged a striking and moody ambiance.
Working from the vision laid out by Toma Clark Haines and Chiara Zanella for the jewel-box space that is Galerie Vauclair, Fromental adapted our Chinon design to be the perfect backdrop for the launch. Chinon is inspired by French Deco and features an over-scaled chinoiserie motif with raised gesso edges. Using both black and chocolate brown dyed-silk grounds and metallic gold pigments, we were able to create two subtly different spaces that wrapped the space yet did not compete with the jewelry and antique collection displayed." 
The collaboration between Fromental and TCH Collection sends an important message about women in business, explains Mittag:
"Behind every successful woman is a tribe of other successful women who have her back. Toma is one of my tribe, so of course, we jumped at the chance to help her launch her Collection. Without purposefully creating a #girlboss collaboration, we did: Toma Clark Haines, Melissa Mittag, Laurence Vauclair, Chiara Zanella and Isa and Laure who did the magnificent installation. The important thing to remember is that if you are going to collaborate with someone, make sure it's someone you can learn from and I think it's fair to say we all learned a lot from each other in this process. The end result is spectacular!"
About Fromental
Fromental creates beautiful handmade interiors bringing an inspirational edge to traditional decorative arts. Our wallcoverings embody our brand ethos: Exquisite interiors balancing modern design with traditional craftsmanship.
The TCH Collection offers one-of-a-kind, bespoke semi-precious and precious couture jewelry. All pieces in the collection are handmade and personally designed by Clark Haines and her colleague, May Au of Madame Siam. The studio accepts personalizations to pieces in the collection and custom designs, which they translate into wearable art. The TCH Collection also offers a selection of pedigreed vintage and antique finds; the Ara Collection is available at the Paris Pop-Up Shop.
TCH Collection – Paris Pop-Up Shop
January 17 - March 18, 2018
Where:
Galerie Vauclair 24 rue de Beaune
75007 Paris France
For Wholesale Inquiries:
toma(at)tchcollection(dot)com
chiara(at)tchcollection(dot)com
For Press Inquiries:
garrett(at)AndrewJosephPR(dot)com
https://www.andrewjosephpr.com
Andrew Joseph PR
New York City, New York